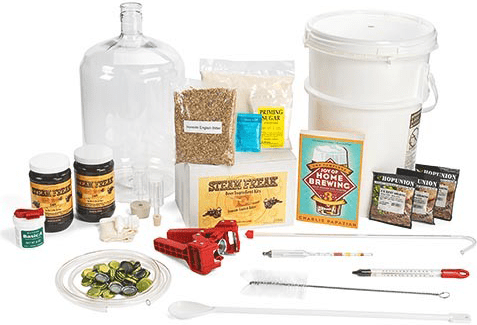 I'm frequently asked by craft beer fans what they need in order to start brewing their own beer. Is there a home brewing equipment list that one could follow? Luckily, Adventures in Homebrewing has taken the guess work out of this question by offering a Starter Home Brew Kit, which includes a bunch of equipment and one ingredient kit for the homebrewer's first batch of beer. The only thing not included is a large kettle, which you may have on hand already. (If you don't, we can hook you up with a brew kettle, too!)
Now, let's take a closer look at the list of home brewing equipment included in the Steam Freak beer brewing kit:
Home Brewing Book:
Before even getting to the actual equipment, every brewer needs some literature to guide them through their first batch. The Complete Joy of Home Brewing is the perfect accompaniment for the beginning brewer. After getting a batch or two of homemade beer under their belt, homebrewers can upgrade to more advanced books. I recommend Marty Nachel's Homebrewing for Dummies and Ray Daniels' Designing Great Beers. More >>
6 Gallon Primary Fermenter (Comes with airlock, stopper, and faucet):
A 6 Gallon Fermenter is ideal for primary fermentation. Even though you will be brewing a five-gallon batch, the extra space allows for krausen, or foam, to build during the height of fermentation. The airlock and stopper allow carbon dioxide – a byproduct of fermentation – to escape from the fermenter, while the faucet makes it easy to transfer to the carboy for secondary fermentation. More >>
5 Gallon Plastic Carboy (Comes with airlock, stopper, and faucet):
The carboy is where the beer sits for a 10-14 day conditioning phase, known as secondary fermentation. A curved racking cane will make it easier to transfer from the carboy back into the fermenter for bottling. More >>
Home Brew Hydrometer:
This nifty tool should on any home brewing equipment list. It allows brewers at every level to determine the alcohol content of their beer. Carefully place the sanitized home brew hydrometer in the unfermented wort to take the first measurement – referred to as the original gravity (OG). After fermentation, take another – called the final gravity (FG). The difference between the two is used to calculate the alcohol by volume (ABV)! More >>
Thermometer:
Your fermentation temperature matters. Too cool, and the yeast won't ferment; too warm and you are promoting bacterial growth and possible death of the yeast. More >>
6′ Length of 3/8″ Vinyl Hose:
Any home brewing equipment list is going to have this. The heat resistant hose facilitates transferring from one fermenter to the other. More >>
Bottle Capper  
When it's time to bottle your brew, you'll need something to cap the beer bottles. The double lever capper is easy to operate and ensures a firm seal on every bottle. More >>
Cleaner/Sanitizer:
Brewing can get a little messy, but with several cases of beer at the end, it's well worth the effort. A cleaner is ideal for cleaning your home brewing equipment before and after brewing a batch of beer. More >>
Beer Bottle Brush:
Homebrewers typically save beer bottles for when their home brew is ready. The beer bottle brush helps to clean the insides of the bottles, helping to make sure nothing contaminates the beer you've worked so hard to make. More >>
Beer Ingredient Kit:
Choose from over 30 beer ingredient kits for your making your first batch of beer. The Steam Freak Ingredient Kits include all home brewing ingredients for a five gallon batch, recipe instructions, and caps. More >>
So what are you waiting for? Order a kit already and start brewing! It has a home brewing equipment list that is perfect for the first-timer. And, it's something you can easily build upon as you progress in this wonderful hobby.
—–
David Ackley is a beer writer, brewer, and self-described "craft beer crusader." He is a graduate of the Siebel Institute of Technology's "Start Your Own Brewery" program and the Oskar Blues Brew School in Brevard, NC.