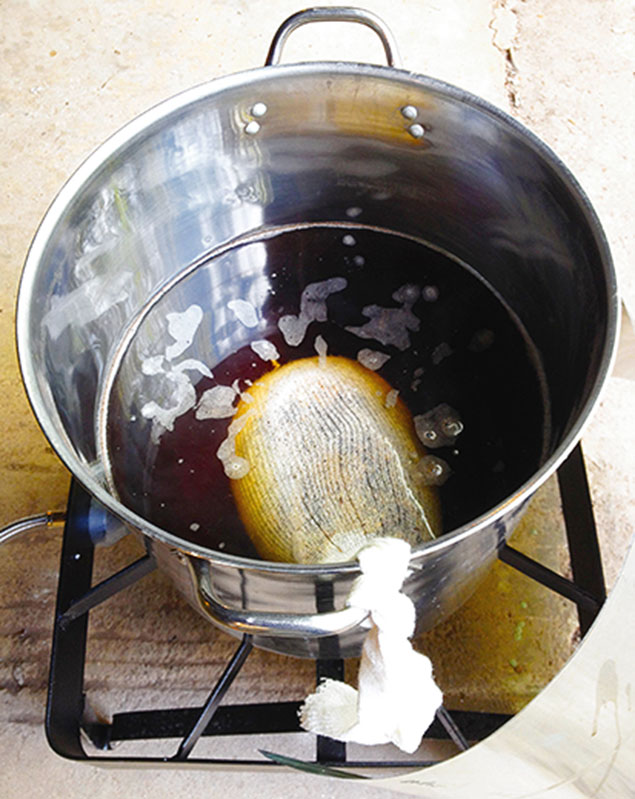 This weekend I brewed my latest homebrew recipe kit from E. C. Kraus:
Captain Cogsworth Coffee Stout
.
Though I often brew all-grain, I
enjoy other methods of making beer
. For example I like partial mash brewing for a number of reasons. For one, partial mash brewing takes less time. I can usually do a partial mash brew in about four hours, as apposed to six for all-grain, cleaning and sanitation steps included. Most of the time savings come from eliminating the mash and lauter steps. Bringing the wort to a boil is faster too, since you're dealing with about half as much liquid. It's also nice that after steeping the grains you only have to dispose of half a pound of grain, not twelve, and there's no mash tun to clean out.
When I brew partial mash brewing kits, I will sometimes make small adjustments to the recipe in the box. For this coffee stout beer kit, I added a little extra
base malt
to the steeping grains for a more grainy malt flavor and a little
diastatic power
. The extra grains may contribute some extra body and mouthfeel as well.
The first step in partial mash brewing (after cleaning and sanitation, of course) was steeping the specialty grains. I used pure RO water from the store. After about 20 minutes at 150°F, it was time to bring the wort to a boil.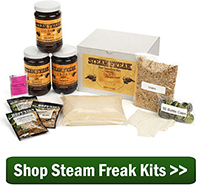 This is the point where malt extract is added to the wort. Regardless of whether brewing on the stove or on a gas burner, I always turn off the heat before adding the malt extract. This helps prevent a boil over. After adding the malt extract, the wort smelled glorious! A lot like hot cocoa.
After bringing the wort to a boil, I added the first round of hops, in the case of this Cogsworth coffee Stout, one ounce of
Northern Brewer
. Thirty minutes later, I added the rest of the hops: one ounce
Tettnanger
. With 15 minutes left in the one-hour boil, I added a couple additional ingredients that weren't called for in the beer recipe with this kit:
Irish moss
and
yeast nutrient
. In my experience, these can help with clarity and fermentation, and I've simply gotten into the habit of adding them to every brew.
As with bringing wort to a boil, chilling a wort with the partial mash brewing method is much faster. I was able to chill the wort with my
immersion wort chiller
in basically half the time compared to doing a full wort boil. After that, all I did was pour about two gallons of water into my sanitized fermenter, pour the wort on top, top off to five gallons, and then stir to mix and aerate. Sometimes I will top off a little more than five gallons just to account for losses in trub.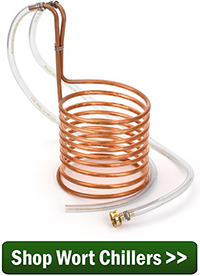 So far, the partial mash brewing directions that came with this brew kit have worked well. I took a quick hydrometer sample (1.059 – right on target!), pitched the yeast, and in a couple weeks I'll be ready to add the coffee! Based on how the coffee smells…I'm excited!
• Part I – Brewing a Coffee Stout
• Part II – Brew Day, Partial Mash
• Part III – Adding Coffee, Priming
• Part IV – Final Tasting Notes
———————————–
David Ackley is a beer writer, brewer, and self-described "craft beer crusader." He holds a General Certificate in Brewing from the Institute of Brewing and Distilling and is founder and editor of the Local Beer Blog.