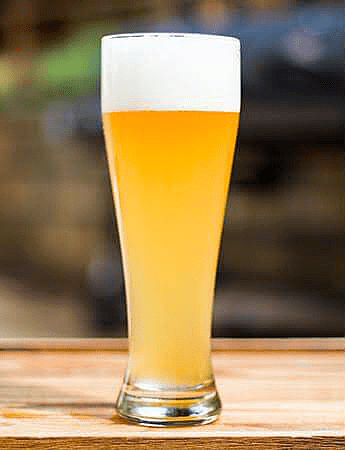 Witbier, or bière blanche, in French, is a style of wheat beer native to Belgium. Belgian "white" beer is characterized by its light color and cloudy appearance, usually from the use of unmalted wheat or oats. Moderately hopped, Belgians wits are commonly flavored with coriander, bitter orange peel, and possibly other spices as well. Given its light, fragrant, and refreshing qualities, belgian witbiers are perfect for brewing and drinking in warmer weather. (Can you tell I'm excited for summer?!) So, here's some insights on how to brew Witbier.
Though once popular throughout Belgium, wits were nearly made extinct until Pierre Celis revived the style in the 1960s. Today, almost every beer drinker knows of Hoegaarden, named for the town where witbiers were made popular, and Blue Moon, the interpretation of the style made by Coors.
In doing some research for this post, I found an interesting tidbit from Michael Jackson, which explains how the Curaçao orange peel and other spices may have found their way into witbiers. In his Beer Companion, he points out that "Belgium was a part of the Netherlands when many spice islands, including the orange-growing territory of Curaçao, were colonized." It stands to reason that the spice trade influenced what was used in the brewing of witbiers.
Modern interpretations of the style may include some interesting flavoring ingredients. Westbrook Brewing in South Carolina makes a wit called White Thai, which uses lemongrass and ginger root instead of orange peel and coriander.
How To Brew Witbier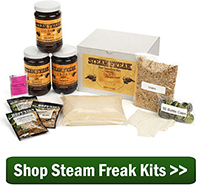 Witbiers are a fun style to brew and one that you and your non-beer geek friends will likely enjoy throughout the summer. Our Brewcraft Belgian Wit recipe kit includes everything you need to brew a Belgian white. You can also brew your own Blue Moon with Stream Freaks Blue Noon recipe kit. Both of these recipe kits are from extract. If you prefer to formulate your own witbier recipe, read on.
Grains – Extract brewers will want to use the lightest malt extract available, probably using a fair amount of wheat malt extract syrup, an extract made from both wheat and barley malt (65/35 wheat to barley malt). All-grain brewers should start with a light pilsner malt for the base of their grain bill. Both might consider using unmalted wheat or oats for added body and the notorious witbier cloudiness.
Hops – Traditional European varieties of hops should be used in an authentic Belgian witbier, but feel free to use some American hops if you'd like. According to Michael Jackson, the original Hoegaarden used East Kent Goldings and Saaz, though I'm not sure that's still the case now that Hoegaarden is owned by AB-InBev. In any event, shoot for 10-20 IBUs.
Herbs & spices – Coriander and bitter orange peel are the common additions in Belgian whites. Hoegaarden's "secret" spice is believed to be grains of paradise. This is a good style though for thinking outside the box, so you may wish to throw in some lemon peel, lemongrass, ginger, or chamomile into your witbier depending on your tastes.
Yeast – Use a wit beer yeast or other Belgian yeast strain for your witbier.
That's my take on how to brew Witbier. Are you a fan of Belgian wits? How do you like to brew your own Belgian white?
—–
David Ackley is a beer writer, brewer, and self-described "craft beer crusader." He holds a General Certificate in Brewing from the Institute of Brewing and Distilling and is founder of the Local Beer Blog.