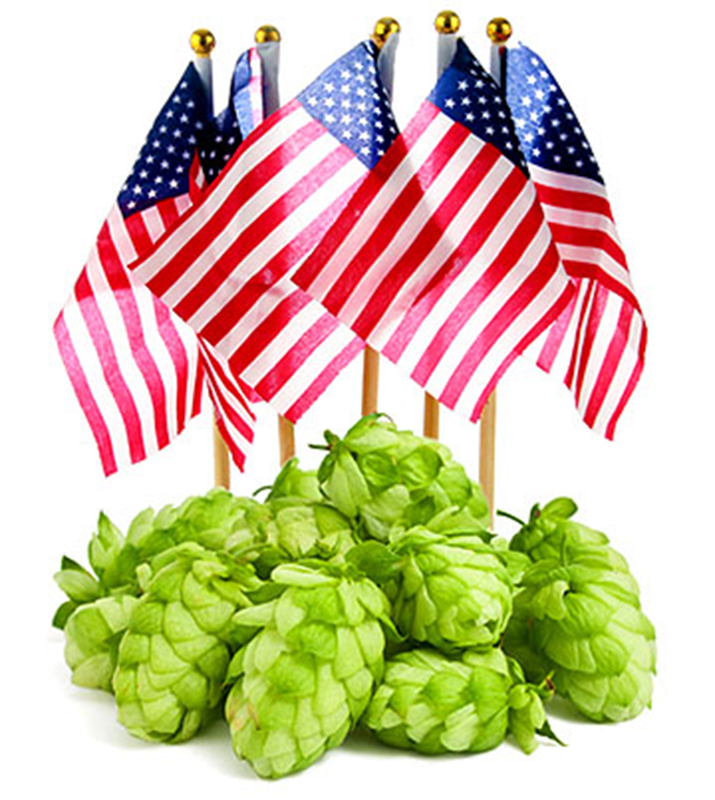 American hop varieties display a wide range of flavor and aroma characteristics, from citrus and floral to piney and resinous.
Hops are generally categorized as bittering, finishing, or dual-purpose hops. Higher alpha-acid hops usually lend themselves to bittering, whereas the lower alpha-acid hops are preferred for flavor and aroma. Dual-purpose hops work well in both situations.
Here's a quick guide to some of the most popular American hop varieties:
Amarillo: Amarillo is one of the relatively new American hop varieties that has become very popular among craft brewers for its fruity hop character. Similar to Cascade, it features strong fruity notes when used as an aroma hop, often described as "tropical".
Cascade: Perhaps the most popular American hop of all, Cascade is well known for its use as a finishing hop in Sierra Nevada's Pale Ale and countless other American ales. It has a distinctly spicy, citrus character that gives very fragrant grapefruit notes when used in later additions.
Centennial: Generally considered a dual-purpose hop (meaning it works well both early and late in the boil), Centennial has a citrus and floral character that makes it work well when combined with Cascade and similar hop varieties.
Chinook: Chinook is a dual-purpose hop with distinct piney and spicy hop notes. Maybe you could try an all-Chinook IPA?
Cluster: According to Ray Daniels, Cluster "is believed to be the oldest of all the American hop varieties still grown today." It's a dual-purpose hop with alpha-acids in the mid-range. If you want to brew a pre-Prohibition style American lager, Cluster may be a good choice.
Columbus: High alpha-acid content makes Columbus an excellent bittering hop, but it also works well for later additions and dry hopping. Oskar Blues' award-winning Deviant Dale's IPA is dry-hopped with Columbus.
Fuggle (US): US Fuggles are a low alpha-acid hop derived from the English variety of the same name. When used as a finishing hop, it gives beer a pleasant woody hop aroma.
Liberty: Liberty is derived from the Hallertau strain of the German noble hops. It's a lower alpha-acid hop that works well as a finishing hop in American-style pilsners and lagers.
Magnum: US Magnum is a clean, high alpha-acid bittering hop comparable to the German Magnum.
Mt. Hood: Mt. Hood as another aroma hop comparable to the German noble hops, named for the region in Oregon where it's grown.
Willamette: Willamette ("Will-AM-ette") is a low alpha-acid aroma hop bred from the UK Fuggles. It works well in a wide variety of American ales and lagers.
For more great resources on other hop varieties, check out Ray Daniels' Designing Great Beers.
What are your favorite American hop varieties? Are there any you'd like to see us carry?
—–
David Ackley is a beer writer, brewer, and self-described "craft beer crusader." He is a graduate of the Siebel Institute of Technology's "Start Your Own Brewery" program and the Oskar Blues Brew School in Brevard, NC.