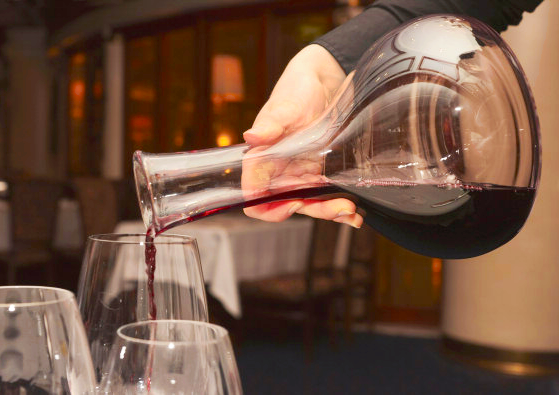 I really enjoy the wine making information in your newsletters. I bottled my first wine, a California Merlot, last May. It aged in 6.5 L carboys and had 8 months of French oak chips. I racked it twice. It is still a bit young, but interestingly, if I decant the wine and drink it 24 hours later, it is a much better wine. Can you speculate as to why does my wine taste better the next day?
James — MI
—–
Hello James,
The wine taste better the next day because you are allowing time for it to breathe. What is really going on when a wine breathes is it is being introduced to fresh air again, something that it hasn't had contact with for quite some time. By pulling the cork and simply letting the wine bottle stand or by pouring the wine into a carafe, the air will start a mild oxidative process that will soften the rough edges of the wine's tannins.
It also allows time for any odd gasses to escape that may have developed during the aging or maturation process. Allowing a wine to breathe has also been known to intensify both the flavor and bouquet of a wine — something that can be a problem for wines that have not been fully aged, however this is not true in every case.
While allowing time for the wine to breathe can be a benefit for some, for many it will have no benefit at all, and for others it may even bring damage, particularly with older wines whose flavor structure has been known to collapse very shortly after decanting.
The wines that are most likely to benefit from breathing are younger, heavy reds that have not yet had time to take complete advantage of the aging process. And, it just so happens that young, red wines is what's readily available to the home winemaker.
How long you should let the wine breath is another issue. Usually we are talking minutes not hours. More than likely 60 minutes would have been just as good as waiting for the next day to drink your homemade Merlot. As a general rule-of-thumb the younger the wine the more time it may need to take full advantage of breathing, but to say a wine needs until the next day to breathe is excessive from any perspective. Think in terms of a few minutes with a probability of improvement on up to an hour.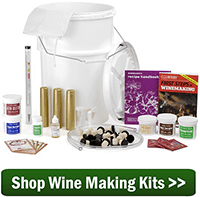 With all this being said, unless you have previous experience with decanting a specific wine, giving it time to breath can be a bit of a crap shoot. In the case of your Merlot, you have specific experience with it, so I would not hesitate to let it breathe for 30 minutes and see what you think.
In the case of an unfamiliar wine: if it is white, allowing time for it to breathe is pointless; if it has been aged more than 4 years, not recommended; and if it has been aged 8 or more years, it could be risky in the sense that the wine's structure could collapse altogether giving the wine a flabby character. Stick with the red wines that are heavy in tannins and short on aging.
James, I hope this answers your question as to why your wine tastes better the next day. You are not the first to bring this up.
Happy Winemaking,
Ed Kraus
—–
Ed Kraus is a 3rd generation home brewer/winemaker and has been an owner of E. C. Kraus since 1999. He has been helping individuals make better wine and beer for over 25 years.