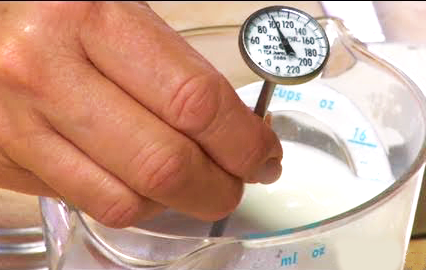 Maybe you can answer a question that I have. When adding wine yeast to a juice or kit, do you need to place it in hot water as the directions say on the yeast package, or can you just sprinkle it onto the must? I noticed that some wine recipes call for the wine yeast to be placed in hot water first, and other recipes call for the yeast to be sprinkled on the top of the must. What is the best thing to do?
Eric L. – OH
—–
Hello Eric,
You are correct! There is some conflicting information running round when it comes to adding yeast to homemade wine. Almost all wine ingredient kit directions and wine recipes will say to sprinkle the dried wine yeast directly on top of the juice, but if you look at the packet of wine yeast itself, it will have directions that instruct you to put the yeast in warm water first. So, what should you do? How should you pitch the wine yeast?
Putting the wine yeast in warm water before adding it to a juice is a process called rehydration. What rehydration does is take a dried wine yeast and bring it back to an active state.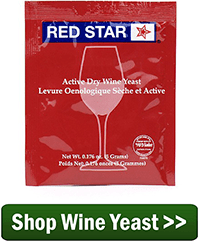 If you pitch the dried yeast directly into the wine must it will rehydrate and eventually start fermenting, anyway. So why do the yeast producers recommend this extra step before adding the yeast to the wine juice?
Why Rehydrate The Wine Yeast?
When a yeast cell rehydrates, its cell wall is swelling and gaining back its elasticity – its ability to flex and and be soft. This is a process that is prone to leaving a few cells damaged. In fact, a percentage of them don't make it. But, by using plain water at an optimal temperature you are reducing the number of yeast cells that are being damaged during the rehydration process.
Why Sprinkle The Wine Yeast?
The reason wine ingredient kit producers, wine recipes, and even the directions on our website do not mention rehydrating before pitching the wine yeast is that many home winemakers – particularly beginners – do not perform the rehydration process correctly. Some tend to gloss over this procedure, not knowing its importance. This can cause more problems than if they had just added the dried yeast directly into the must.
As an example, the typical rehydration directions for adding yeast to a homemade wine goes something like this:
"Dissolve the dried yeast in 2 ozs. of warm water (100° – 105° F.). Let stand for 15 min. without stirring. After 15 min. stir and add to must."
These are great directions and should be the directions you use with the yeast that came in this packet, that is, if you follow the directions, exactly. But if you don't follow the directions, exactly, then things can start to go wrong – very wrong!
It is important to understand that at 100° – 105° F. a small portion of the yeast cells are dying every minute, and as the temperature goes up an even larger number die every minute. What this means is that if a thermometer is not used to make sure that the water is at or below 105° F., or the yeast cells are allowed to stay in the water for longer than 15 minutes, too much, or potentially all of the yeast can be destroyed before making it to the juice or wine kit.
A second complication is that it can take overnight or even a couple of days, for some, to discover that their wine is not fermenting or fermenting very sluggishly – much more so than if they'd just sprinkled the yeast onto the wine must in the first place. And this is a time that the wine is most susceptible to contamination and spoilage – before any alcohol has been made to help protect it. It needs an active fermentation to start up in a timely manner.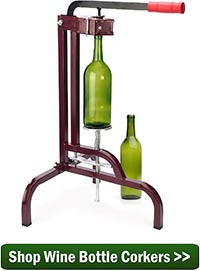 For this reason, wine kit producers elect to play it safe and advise that adding the yeast to your wine, that you sprinkle the dried yeast on top of the wine must. This is a much better option that having a first-time winemaker ruin their wine.
What Should You Do?
Regardless of what method you use for adding yeast to your homemade wine – sprinkle dried yeast on the must or rehydrate the yeast – some of the yeast cells will die before going into action. That's just the way it is, but that's okay. The number of yeast cells that are provided in each packet allow for this attrition. Just remember that if you do decide to rehydrate your wine yeast before pitching it, it is critical that you follow the directions closely with regards to temperature and time. If you're not willing to go through the hassle, just sprinkle the yeast on the must.
Happy Wine Making