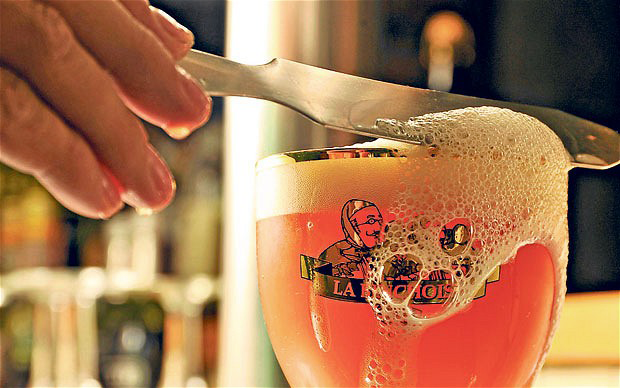 Belgian beers have become all the rage in the United States. Some might even credit them as inspiring the American craft beer movement. Belgian-style beers are characterized by the use of Belgian beer yeast, which produces a wide range of fruity and spicy notes that often make Belgian beers wine-like in their complexity. If you're a fan of Belgian beers, here are the 7 best Belgian beer recipes that you should try right away:
 
Rochefort 8 Clone (All-Grain) – Rochefort is one of the Trappist breweries in Belgium. The monks at Rochefort have been making beer since medieval times and are credited with making some of the best beer in the world. Rochefort 8 is a dark brown, rich with flavors of dark fruit, and 9.2% ABV.
Westmalle Tripel Clone (All-Grain & Extract) – Westmalle is another Belgian Trappist brewery, founded in 1794. Westmalle Tripel is golden in color with a complex fruity, herbal, and floral character.
Belgian Saison Beer Recipe (All-Grain & Extract) – This is a classic Belgian saison recipe, brewed with orange peel and coriander. Some flaked oats give the beer body while brown sugar helps give the beer a dry finish. Feel free to switch out the spices with others such as lemongrass or grains of paradise to create your own interpretation of the style!
Blue Moon Clone Recipe (All-Grain & Partial Mash) – OK purists – I know Blue Moon isn't actually a Belgian beer, but it's modeled off of Belgian witbier. This Belgian beer recipe is a good option for those just starting to explore Belgian beer styles.
Belgian Abbey Single (Extract) – At 4.5% ABV, this beer might be considered a Belgian table beer. In other words, a beer that's low enough in alcohol to be served in a big pitcher on the table and consumed throughout the day. But this beer is still packed full of flavor. The Saaz hops play exceptionally well with the Wyeast Belgian Abbey Ale yeast.
Belgian Lambic (Extract) – Belgium is known for a wide range of sour beers, including lambic. Belgian brewers would often ferment their beer with open fermentation, which would expose the beer to wild yeast and bacteria. In the case of lambic, the beer is made sour from a lactobacillus bacterial culture. Homebrewers don't have to practice open fermentation; Wyeast offers a lactic blend that eliminates the guesswork of open fermentation.
Cranberry "Lambic" (All-Grain) – One problem with brewing sour beers is that rogue yeast and bacteria can cause problems when brewing non-sour beers. This Belgian beer recipe uses cranberries to create the sour sensations, but a traditional ale yeast that's much more predictable.
Brew these Belgian beer recipes and soon you'll be a master of brewing Belgian beer styles!
What styles or Belgian beer recipes would you like to see added to the list?
—–
David Ackley is a beer writer, homebrewer, and self-described "craft beer crusader." He holds a General Certificate in Brewing from the Institute of Brewing and Distilling and is founder of the Local Beer Blog.