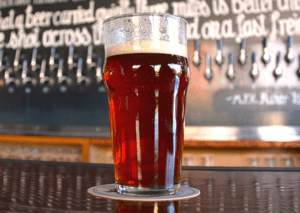 At long last, the Steam Freak Special Bitter has been brewed, fermented, kegged, and is now ready to drink. Now it's time to taste the beer and figure out if it can be improved in any way.
Here are the notes from my taste test of the Steam Freak Special Bitter beer recipe kit.
Tasting Notes: Steam Freak Special Bitter Recipe Kit
Final Stats:
OG: 1.048
FG: 1.017
ABV: 4.1%
IBUs: ~25
SRM: ~15
Aroma – Primarily caramel and toffee, with just a touch of spicy hop aroma from the last minute decision to add some Cascade dry hops.
Appearance – Very dense, foamy, off-white head that sticks around for at least a couple minutes. Head retention probably due in part to the Carapils malt. Medium-dark amber color, a little darker than expected, but still appropriate for the style. Somewhat hazy. I didn't use any finings, so they will probably help next time around.
Flavor – First thing I get from this beer recipe kit is the caramel/toffee malt sweetness, followed by some spicy and floral hops flavor. The beer finishes dry with a slightly mineral aftertaste.
Mouthfeel – Neither too heavy nor too light – just right. Slightly dry finish.
Overall – Overall I'm pleased with how the beer turned out. It's well-balanced, moderate gravity, and with plenty of flavor to keep things interesting.
If I were to brew this beer recipe kit again I might consider making a few changes:
Move some of the liquid malt extract to a late addition and add some aroma hops during the boil. This should bring a little hop bitterness and aroma to the forefront. Any low alpha acid hop variety will do, but Kent Goldings and/or Fuggles would be two of the most authentic options.
Also, looking back over my homebrewing notes, I recall that I ran out of Irish moss. A teaspoon or two added during the last ten minutes of the boil would likely help with the haze.
I will probably not prime the keg next time. I'm glad I tried it, but I ended up pulling a good bit of yeast out of the keg for the first few pints. Good old force carbonation will work just fine.
All in all, the opportunity to brew the Steam Freak Special Bitter was a good one. I got to review some extract brewing techniques and try my hand at a style I'd never brewed before.
Which Steam Freak beer recipe kit would you like to try?
Read the other posts of this review! Part 1 | Part 2 | Part 3 | Part 4 | Part 5 |
—————————————————————————————————————-
David Ackley is a beer writer, brewer, and self-described "craft beer crusader." He holds a General Certificate in Brewing from the Institute of Brewing and Distilling and is founder of the Local Beer Blog.