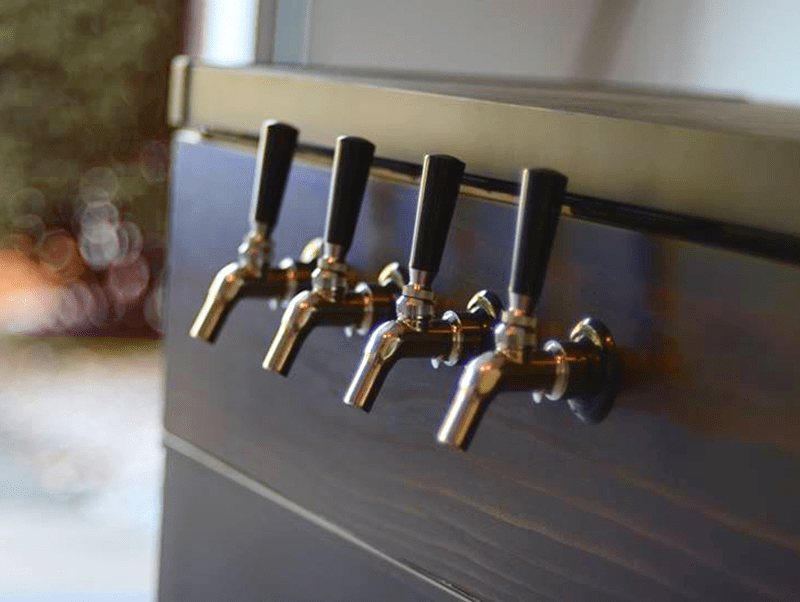 Today's guest post is from beer blogger Heather Erickson. Heather takes us through 4 tips that she has found to be important while transitioning from bottling to kegging homebrew.
—–
Let's be honest beer lovers, there is just something about having a freshly poured pint of beer at your local watering hole. Don't get me wrong, I love the portability of beer bottles and cans. However, beer from a keg just provides a little something more. If you homebrew and have a beer kegging system or a kegerator, it's time to have that sought after fresh pint at home. Below are my four "must-do" tips for kegging homebrew:
Beer choice is critical when kegging homebrew.
Having your homebrew on tap at home will automatically make you popular with friends. That being said, choose a beer style that is a mix between a crowd-pleaser and a daily drinker for you. The first beer I kegged, a Honey Lemon Blonde, was a definite crowd-pleaser. Yet, I never reached for it. That keg took up precious kegerator real estate for far too long.
Proper equipment is key when kegging homebrew.
For homebrew, I like having a couple cornelius kegs on hand. These 1/6 barrel containers hold five gallons which is just the right amount for a homemade batch. If you already have a kegerator equipped with a CO2 tank and regulator, you just need to add some vinyl gas and beer tubing, hose clamps in stainless steel, and two quick disconnects (one for gas and one for beer). Even if you don't have a kegerator on hand, for under $300, you can score all of the equipment above plus a picnic squeeze faucet for pouring and have that draft brew in no time!
Cleaning is important when kegging homebrew.
Now that you have all your kegging equipment, it is time to start sanitizing. While you won't be stuck with laborious task of soaking, sanitizing, and removing labels from dozens upon dozens of beer bottles, you still need to be conscious of the proper sanitation of your keg. I prefer using Five Star's Star San Sanitizer. Be sure to include your vinyl hoses in the mix. You want everything that will come into contact with your brew to be bacteria free. Follow the instructions for cleaning a keg, don't skip on any steps, and you will be guaranteed that keg is ready for beer.
Be patient with carbonation when kegging homebrew.
Much like sparging on a brew day, patience is needed to appropriately carbonate your brew. Rushing the process with a carbonating stone, while effective, doesn't really give you that pub-like fresh pint. Not keeping track of the pressure you put on the keg can also alter the end result of your hard work. When kegging homebrew, I find that putting 30 lbs. of CO2 pressure on the keg and letting those little gas bubbles work their magic for three days is the way to a perfectly carbonated pint.
There you have it, homebrewers! You too can have freshly poured draught beer at your fingertips from the comfort of your home. Why settle for a pint of someone else's creation, when you can have one of your own? Get brewing, start kegging homebrew, and enjoy!
———————————–
Heather Erickson is a homebrewer with three years experience and has competed in the GABF Pro-Am Competition. She writes the blog This Girl Brews and is a regular contributor to homebrewing.com and kegerators.com. Find her on Twitter at @thisgirlbrews.