Help!
I was wondering if you can straighten me out on something. I have heard that you should add campden tablets before you add the wine yeast. I should also add campden tablets after every time I rack the wine. Then add them before I bottle the wine. That seems like a lot to me.
Thanks,
Gary
—–
Hi Gary,
Thanks for such an interesting question.
You do need to use Campden tablets or some other form of sulfite such as sodium metabisulfite, or the wine could eventually spoil or turn to vinegar. But how much you should add is another issue all together.
If you're making wine from fresh fruit, we recommend that you add one Campden tablet per gallon before the fermentation. This is the standard dose. If you are making wine from a packaged juice, this step is not necessary.
Be sure that you wait 24 hours before adding the wine yeast, or the Campden tablets may kill the wine yeast. Also during this 24 hour waiting period, be sure the fermenter is not sealed. Leave the fermenter open to the air. If you like, you can cover it with a very thin towel or netting to keep bugs and fallout from getting to it. The sulfur dioxide from the Campden tablets need the opportunity to dissipate into the air during this time.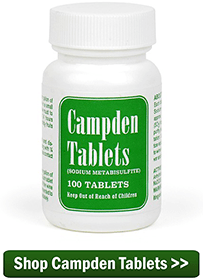 We also recommend that you add another dose of Campden tablets as soon as the fermentation has completed. You should confirm with a wine hydrometer that the fermentation has actually completed before adding them.
The only other dose of Campden tablets we recommend is right before bottling. This last dose is what will keep the wine from spoiling or turning to vinegar.
The reason we recommend only adding Campden tablets at these three times is because it is possible to add too much. By sticking with these three times "too much" is not possible. These three times assumes that you will keep the fermenter topped-up and that long-term bulk aging is not in the plans — 1 months or more.
This reason for this is that while sulfites from these Campden tablets do dissipate into the air during rackings, a large percentage of the sulfites bond to the wine. As you add more doses, the bonded sulfites build up in the wine. This build up of bound sulfite does nothing to protect the wine, but if built into a high enough concentration, it can eventually affect the wine's flavor.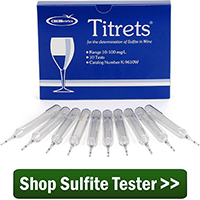 Having said all this, it is possible to add more Campden tablets after rackings, but you shouldn't do this blindly. You need to test the sulfites that are currently in the wine before adding more. This can be done with Titrets Test Vials and the Titrettor Hand Tool. Shoot for a range of 25 PPM (Parts Per Million) for red wines to 35 PPM for whites. If you do not want to go through the testing, don't add more than what's recommended above.
I hope this answers your question and concerns about the use of Campden tablets in your homemade wine. I wanted to point out that this recommendation applies regardless of what form of sulfite you are adding, the three main ones being: Campden tablets, sodium metabisulfite and potassium metabisulfite. If you follow each one's directions for the dosage you will be adding the same amount of sulfites in each case.
Happy Wine Making,
Ed Kraus
—–
Ed Kraus is a 3rd generation home brewer/winemaker and has been an owner of E. C. Kraus since 1999. He has been helping individuals make better wine and beer for over 25 years.