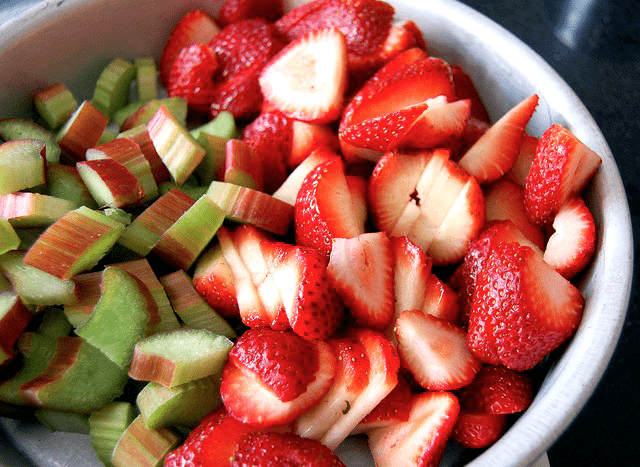 Strawberry and rhubarb is a traditional, country combination that has worked deliciously for pies for who knows how long. With that country combo in mind, here's a wine recipe that takes both great flavors from the pie pan to the wine bottle.
This is a strawberry-rhubarb wine recipe that has been made by several of our customer with great success. Its flavors are rich and layered with a bit of tang that sets if off. It has a glassy, garnet color that is almost irresistible when set on the table in front of family and friends.
While this particular version I experienced was made dry, I'm sure it would do quite well if it were made off-dry or even sweet. Making a sweet wine can easily be done by adding sugar and potassium sorbate (wine stabilizer) before bottling.
Since there has been such success with this particular wine recipe, I thought I'd share it here as well…
Strawberry-Rhubarb Wine Recipe
(Makes 5 Gallons)
2 Cans County Fair Strawberry
5 pounds Rhubarb (cubed, meaty stalk only)
8 pounds Sugar
5 Teaspoons Yeast Nutrient
5 Teaspoons Acid Blend
1 Teaspoons Pectic Enzyme
5 Campden Tablets (24 hrs. before fermentation)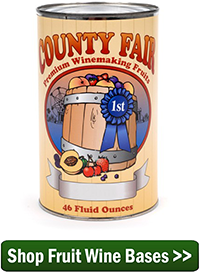 Water (To total batch to 5 gallons)
1 Pkg. Wine Yeast (Lalvin K1V-1116, recommended)
5 Campden Tablets (Before Bottling)
Use The 7 Easy Steps To Making Wine for the directions.  These directions will lead you through the process. If you need the equipment. The "Your Fruit!" Wine Making Kit will work perfect for this wine recipe.
Have you every made a strawberry-rhubarb wine recipe? If so, why don't you share your recipe below?…
—–
Ed Kraus is a 3rd generation home brewer/winemaker and has been an owner of E. C. Kraus since 1999. He has been helping individuals make better wine and beer for over 25 years.