Did you know over 60% of wine consumers are women?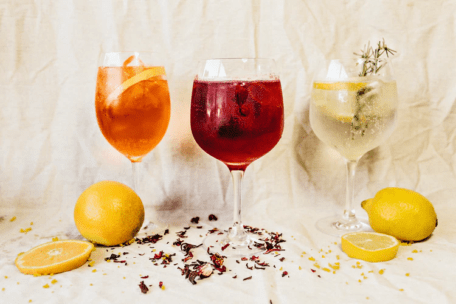 While we're not entirely surprised, it's a pretty staggering number. From wine tasting groups to girl's night out, women are finding all kinds of reasons to
 indulge in this timeless drink. 
As winemakers continue to experiment with varietals, tannins and flavors, many have started to explore other fruit based mixtures. Fruit wine is wine made from fruit other than fermented grapes or grape juice.
This fun new wine makes a great Mother's Day gift or an exciting kick off for warmer weather!
Choosing Your Fruit
Depending on the time of year, there are plenty of fruits to choose from when buying or making your wine. Fruit seasonality and their fermentation period should be considered when selecting your fruit.
Here's a guide to help you pick the perfect fruit wine for Mom or yourself:
SPRING FRUITS
Strawberries: A sweeter wine – long fermentation period.
Cherries: Bold flavor that can be as sweet/sour as you like – long fermentation period
SUMMER FRUITS
Blackberries: Bold red wine that tastes great when blended with apples. 2 years to age.
Blueberries: Creates a light rose wine – short fermentation period.
Peaches: White wine with a great aroma – short fermentation period.
Plums: Rich color and flavor – short fermentation period.
FALL FRUITs
Apples: A light white wine. Great base for blending wines – 2 years to age alone.
Now that you've chosen your fruit, let's start wine making!
How to Make Fruit Wines
Gifting this to Mom or that special woman in your life? Try making fruit wine from scratch.
Similar to making regular wine, there are many recipes for any skill level. We've got a great general recipe to get you started.
What You'll Need:
Ingredients:
Fruit of your choice
Wine yeast
Sugar
Tools:
2 glass containers – 1 for primary and secondary fermentation
Fermentation bag
Wine bottle
Optional Supplies:
Hydrometer
Tartaric
Citric/malic acids for better balance and quality
Instructions:
Step One:
Mix sugar, water, and your cut up fruit into a fermentation bag, cover it with a towel and let it sit for a day.
Step Two:
Add the yeast, and replace the towel covering it. Squish the bag once a day, and let this sit for another 5 days.
Step Three:
Drain all the liquid from the fruit and place into the carboy. Cap with an airlock for proper fermentation

You can use a siphon tube for more accuracy, but if you don't have one it's fine
Step Four:
Store this in a cool and dark place for another month before repeating the fermentation process.
Step Five:
Once all the bubbles are gone, you can pour the wine into your glass bottle and seal it with a cork!
Congrats! You've made your first bottle of fruit wine.
Whether you're buying or making fruit wine, it's sure to be a fun experience for all. And if you're giving to Mom, or even creating with Mom, it'll be a fun way to celebrate Mother's Day.
Cheers!