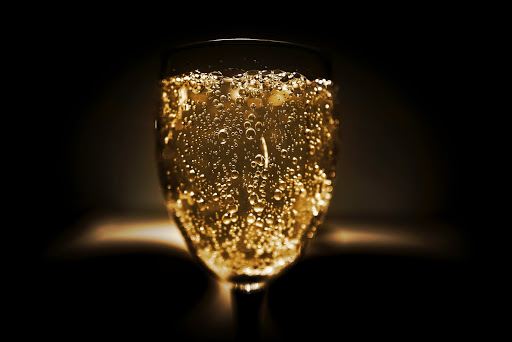 There are many different ways to make sparkling wine. There is the Methode Champenoise, the traditional French method believed to produce the highest-quality sparkling wine. The Charmat Method, a.k.a. the more affordable method, which utilizes a tank and creates wine like Prosecco. The Transfer Method, a combination of the Champenoise and Charmat methods. The Carbonation Method, which we do not recommend, and a few other methods you can read about here. Today we are going to focus on the Methode Champenoise, the traditional way to make Champagne in France. 
Sparkling wine can take up to nine months to finish, so if you're hoping to have your own bubbly for the holidays you'll want to start soon. 
Step One: Your Wine Base
Prepare your wine base. To make quality sparkling wine you'll want to start with a tart but not acidic wine like Chardonnay or Chardonnay style wines. Ferment the base wine the normal way up until the stabilizing step. Do not add the stabilizing add-packs; the sulfites might kill your yeast. Rack your wine into a carboy and wait. When it's done fermenting, your acid should be crisp and tart, and your wine clean and free of any off-odors.
Step Two: Riddling
To make sure your Champagne has that clear, crisp color, riddling takes place. Riddling is a labor-intensive process that inverts the sparkling wine and twists the bottle back and forth over and over again. This process loosens the sediment from the bottom and sides and collects in the neck of the bottle in preparation for disgorgement. 
Step Three: Disgorgement
Disgorgement is a crucial step in making sparkling wine. The goal is to eliminate the deposit of sediment in the neck of the bottle that occurred during the riddling process. First, prepare your topping wine and sugar, called the dosage, and chill. Next you're going to put the inverted bottle into the freezer. You want the wine close to freezing, but do not freeze completely or the bottle will break in your freezer. When you see ice crystals form in the neck, your wine is ready to be degorged.
For the last step you'll want an open space that is easy to clean. Gently remove the bottle cap so the pressure in the bottle forces the sediment out. Carefully top the wine off with the dosage and re-cork. We recommend using plastic sparkling wine stoppers. Cork stoppers can be expensive, difficult to insert and difficult to remove.
Step Four: Enjoy!
Store bottles in a cool, dry place, and be sure to chill each bottle thoroughly before serving!
Cheers!