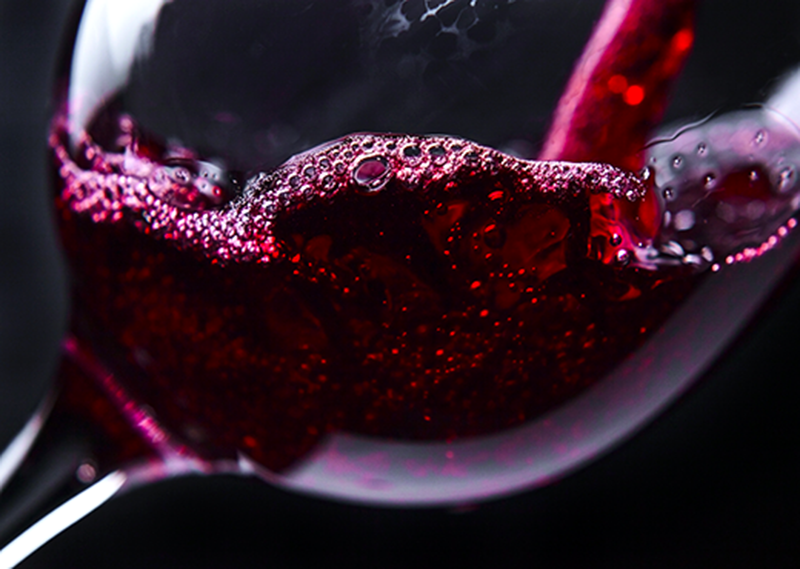 What is the going opinion of making wine with fresh grapes and crushing them, as opposed to using a wine kit? Is one better than the other by default, or would you say either method can produce excellent or horrible results?
Phil B. – TN
_____
Hello Phil,
Thanks for bringing up this great question about wine kits vs fresh grapes. It's a question we get from time to time, so I'll be more than happy to answer it here…
Whether you are making wine from grapes or making wine from kits the quality of the wine starts with the quality of the grapes. There is an adage in the wine making industry that says:
"You can never make a wine that is
better than the grapes used to make it."
What this means is that you'll never make great wine out of poor wine grapes. The quality of the wine always starts with the quality of the grapes.
When making wine from fresh grapes the individual winemaker usually has a limited selection of grapes to choose from. Quality can suffer when dealing in the take-it-or-leave-it type of market that often arises for the home winemaker.
The quality of grapes that you will find in wine kits varies from good to outstanding. It is not in the interest of these kit producers to spend their time preparing and packaging poor wine grapes. It doesn't make economic sense, so great care is taken to locate and acquire grapes that are above average quality.
This is one of the major advantages to using a wine kit vs fresh grapes. You are able to rely on the wine kit producer's expertise in selecting quality grapes. So on the whole you'll be starting with a better quality grape when using a wine kit than when obtaining grapes on your own. Of coarse, there are always exceptions. Living near a grape growing mecca such as Napa can turn this point on its head, but for most home winemakers, this is a consideration that should be given some weight.
We offer an array of different brands of wine kits. As you go up the ladder in price, the finer your selection of grape. How much you spend depends on the level of taste. Some people are completely happy with the On The House wine kits and could not tell a difference even if they did choose a more expensive kit. For others, the On The House simply would not do. How far up the ladder one goes is very much a personal choice.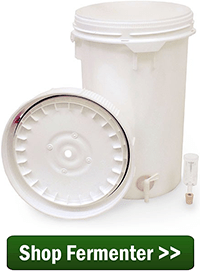 Unfortunately, quality grapes do not guarantee a stellar wine, it's just the first requirement necessary to get there. Between the grapes and the wine bottle is a whole host of other factors such as: acidity, alcohol, sweetness, etc.
Making wine from a wine kit alleviates you from these variables. This is because all these factors have already been taken care of for you by the wine kit producers. They balance the acidity, sugar content and many other features such as clarification and oak treatment to match the typical character of the wine you are making. By eliminating as many variables as possible they are helping to insure that you will make a remarkable wine every time. This is a very valuable benefit of using wine kits vs fresh grapes – especially for the beginner.
Now having said this, I understand completely that we are talking about a hobby, and for some, part of the hobby is the passion that goes into the picking, the crushing, the pressing, and so forth. I get that. And if this is you, I completely support your efforts to make wine from the dirt to the wine bottle. I'm just trying to bring total objectivity to the consideration of using wine kits vs fresh grapes.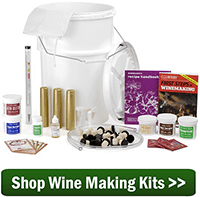 So while both wine kits and fresh grapes holds their own rewards, by starting with a wine you are virtually eliminating any chance of producing a bad wine. Add to that the incredible selection that is now available to the home winemaker and it starts to become apparent that a wine kit is the way to go for the beginner.
I hope this covers all your questions and curiosities about wine kits vs fresh grapes. Please realize that regardless of which path you decide to take, we will be more than happy to help you in any way you need.
Best Wishes,
Ed Kraus
—–
Ed Kraus is a 3rd generation home brewer/winemaker and has been an owner of E. C. Kraus since 1999. He has been helping individuals make better wine and beer for over 25 years.