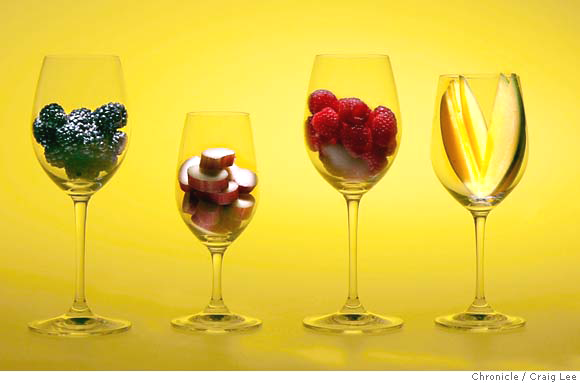 We did a Chardonnay wine kit recently. The results were very good, by all accounts. What is your position on mixing peach, apricot or even persimmon into a batch of that? Wondering. Thanks in advance for your time.
Jeff
—–
Hello Jeff,
Adding fruit to wine kits is a great way to enhance any attractive characteristics that a particular grape may possess. For example: raspberries with Merlot grapes, strawberries with Zinfandel, pears with Pinot Grigio… The options are endless and there is always room for experimentation. It's a great way to have even more fun while making these wines.
Usually when a home winemaker wants to make a wine in this style, they will mix the wine kit and fruits together in the fermenter and proceed with the fermentation from there. After the primary fermentation has completed, the fruit is then removed as the wine goes into a secondary fermenter. However there is another – more professional – way for adding fruit to wine kits. One that will give you much better control over the end product. In other words, less chance of messing up.
Instead of mixing the grape concentrate and fruit together at the beginning of fermentation, make the chosen fruit into its own wine, separately.
In the case of your Chardonnay, you could make some peach wine – one or two gallons of it. When it is time to bottle, you can experiment with blending some or all of the peach wine with it.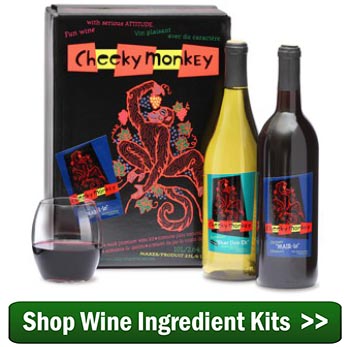 How much peach flavor you add is a matter of personal taste. You can add a little or a lot. You could do sample taste-testings with varying ratios of the two wines. This is the real power of making the two wines separately. You have complete control over the outcome. If you had added some fruit like peaches at the beginning of fermentation, all you could do is guess as to how much peach to add and hope for the best.
By adding fruit to wine kits in this way, you will have total control over how much fruit flavor is in the wine. This method will also allow you to safely mix blending samples together without risking your entire batch.
We have more information about blending wines together in an article on our website that you may want to take a look at: Blending To Improve Homemade Wines. This article should give you some better insights as to what you are look for when putting two wines together.
As far as whether to try peach, apricot or persimmon, all I can say is that I have seen the most success using peach verses apricot and I have never tasted persimmon added to a Chardonnay. But having said this,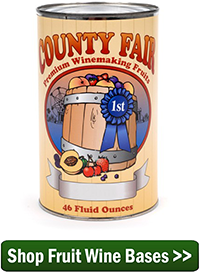 I would never tell you not to try any combination. There are no wrong answer when adding fruit to wine kits. Home wine making is about being creative, experimenting and seeing what you can come up.
Happy Wine Making,
Ed Kraus
—–
Ed Kraus is a 3rd generation home brewer/winemaker and has been an owner of E. C. Kraus since 1999. He has been helping individuals make better wine and beer for over 25 years.