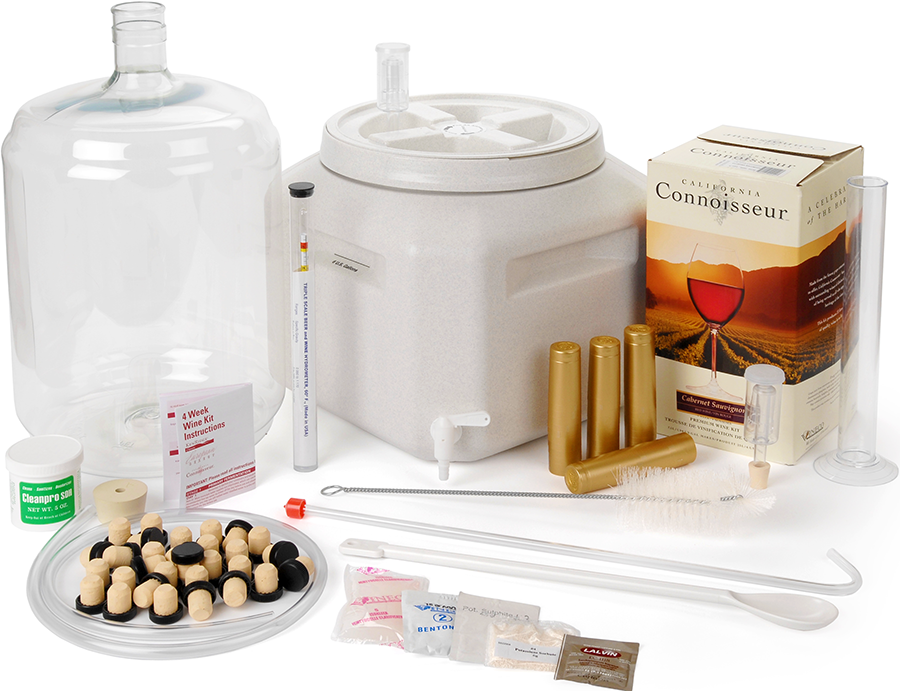 Okay, you've just gotten a wine making starter kit, but before diving head first into the fun of making some wine, it might be a good idea to get an understanding of what's actually in the kit and what it's used for – an introduction.
Of course, all of the wine making starter kits that you can buy are going to be slightly different, depending upon the brand and upon what type of wine you wish to make.  Here is a breakdown on some of the items found in one of these typical wine making starter kits, and how each item functions to produce your best homemade wine.
Tuff-Tank and Carboy:  The main purpose of these items is to ferment, hold, and store your wine throughout the wine making process.  Specifically, the Tuff-Tank is used for primary fermentation, and the carboy is used for secondary fermentation. These two items are the centerpiece of a home wine making starter kit.
Air Locks:  Just as the name suggest, these items keep air from penetrating your homemade wine and protects the wine against oxidation and other undesirable contaminants from spoiling your hard work and effort.
Racking Tubes and Hoses:  These function to help aid in the racking process: to transfer wine from one vessel to another while leaving the undesired lees behind in the first vessel.  Racking occurs on average between 2-4 times throughout the wine making process.
Hydrometer and Hydrometer Jar:  These items are a very important part of any of wine making starter kit.  The wine hydrometer helps you keep an eye on the fermentation process; telling you what the alcohol content of the wine is along the way.  The hydrometer jar allows you to measure the alcohol content of just a small sample of wine rather than measuring the entire contents of your carboy.  Fill the hydrometer jar to the desired level, and submerge the hydrometer into the hydrometer jar to determine how far along your fermentation has gotten.
Stirring Spoon: This is a somewhat more obvious piece of wine making equipment found in a wine making starter kit. It lets you stir your wine in order to maximize the surface area and contact time between the wine and the lees, increasing the overall quality of your finished homemade wine.
Wine Bottle Brush and CleanPro SDH Cleaner: You need to be working in an environment that is as sanitary as practically possible. The bottle brush and SDH cleaner will allow you to do just that. The cleaner functions as a sanitizer for all the equipment in your home wine making starter wine kit, giving you a clean environment for each and every batch.
Wine Making Juice: Most starter kits for beginners do not come with the wine concentrate. They consist of the wine making equipment, only. Our wine making starter kit includes the wine ingredient kit for your first batch, as well. You get your choice of dozens of wine types to start off with: Cabernet Sauvignon, Chardonnay, etc.
These are the basics of a home wine making starter kit. You can find more information about our wine making starter kit on our website.
—–
Ed Kraus is a 3rd generation home brewer/winemaker and has been an owner of E. C. Kraus since 1999. He has been helping individuals make better wine and beer for over 25 years.