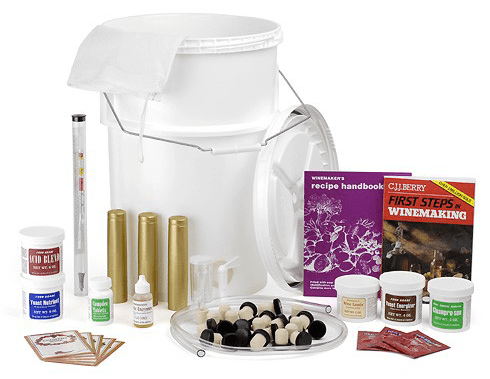 Although you do a good job of explaining the beginner wine making kits, I'm still not sure what I need to purchase.  I'd like to start making fruit wines and was looking at the Your Fruit Necessities Box.  I don't have any wine making products at all so I would like to know what I need to buy in addition to this kit.  Let's say I want to start with strawberry wine.  I have the beginner wine making kit in my shopping cart and now I need to add . . . bottles?  strawberry fruit mix (how many cans)? any sanitizing equipment for the bottles? Anything else?
Chris
—–
Dear Chris,
Using the Your Fruit! Necessities Box is a great way to start making wine. Regardless if you're wanting to make strawberry wine from whole fruits or from your  County Fair canned strawberries, this will be the best way to start out. The wine making process will be the same as well, regardless if you choose to go with fresh or canned strawberries.
In the case of making strawberry wine you can go by the 5 gallon strawberry wine recipe in the center of our mailing catalog, or you can use the strawberry wine recipe listed on the wine recipe page of our website. The directions for making the wine can be found in both places as well. We call them The 7 Easy Steps To Making Wine. The wine making kit already has all the ingredients that are called for in the wine recipe.
As for any additional wine making products or wine making materials you might need, wine bottles is a fairly obvious one. The reason these are not included with the kit is because so many of our customers already have used bottles piling up from their commercial wine purchases.
The sanitizer you asked about is included in the beginner wine making kit. It's called Basic A. It work great on all kinds of surfaces: glass, plastic, metal, etc.
If you think you'll want your wines to be sweet, you may want to purchase a bottle of Wine Conditioner. You will add this to your strawberry wine to bring the sweetness up to the desire level. Just add to taste before bottling the wine.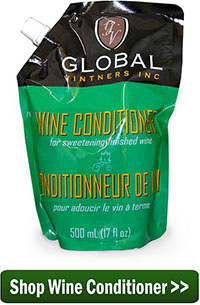 Some people do like to add a second plastic fermenter, but it certainly is not necessary. During the wine making process you will need to move the wine off the sediment a couple of times. This is a process called racking. Having a second fermenter makes the process a little easier. You can just go back-and-forth from one container and to the next as needed.
So as you can start to see the Your Fruit! beginner wine making kit is fairly inclusive, yet economical. While there may be an item or two you may want to add, for the most part this wine kit is complete.
Best Wishes,
Ed Kraus
—–
Ed Kraus is a 3rd generation home brewer/winemaker and has been an owner of E. C. Kraus since 1999. He has been helping individuals make better wine and beer for over 25 years.