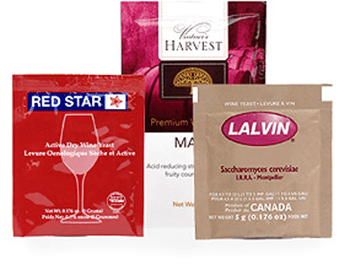 I need you to help me settle a bet with a friend who also makes wine.  He says that wine yeast is no different than what you can get in the store to make bread with.  His quote "yeast is yeast".  I say that it is different, although I can't explain how.  Please help settle this and let us know who has to pay up, plus if there is a difference between wine yeast and baking yeast can you explain it to me.
Thanks,
Jamie
———-
Hello Jamie,
I'm going to be brutally honest, here. I hope this doesn't break-up a good friendship.
To say that yeast is yeast is like saying a dog is a dog. Over the centuries dogs have been bred for various, specific tasks: hunting, herding, personal protection, attacking, protecting herds, companionship, etc. The same can be said for yeast. They have been bred over the decades to perform specific tasks: rising bread, making alcohol, bio-degrading oils, pharmaceutical production, etc.
So to bring this analogy full circle, when you're making wine with a baking yeast, you're hunting grizzlies with a chihuahua. Sorry friend, but wine yeast and baking yeast are not the same. In fact, they are very different. I would never recommend making wine with bread or baking yeast.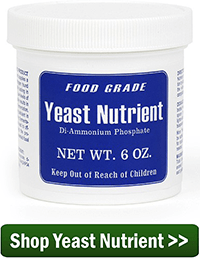 Wine yeast in particular is bred to obtain higher alcohol levels than baking yeast. On average, bread yeast will get you 9 or 10%. Anything higher than that is possible, but the baking yeast will have to struggle considerably.
Wine yeast are bred to thrive very well with the set of nutrients fruits naturally provide. Baking yeast, on the other hand, prefers the balance of nutrients found in grains or bread doughs.
Wine yeast clears more quickly from the wine than baking yeast. Wine yeast is bred to clump together as the fermentation activity slows – a process known as flocculation. The clumping allows the wine yeast to drop out and settle to the bottom more quickly. Baking yeast does not clump or flocculate. Instead, it slowly settles to the bottle as a fine haze. This process can take weeks instead of days.
Wine yeast foams less than baking yeast. This is because wine yeast are bred to produce less surface tension in the liquid than baking yeast.
Wine yeast is also more tolerant to sulfites than baking yeast. The wine yeast has actually been acclimated to coexist with some residual sulfites such as Campden tablets in the wine. This means that wine yeast can ferment just fine with some sulfites in the wine must. Baking yeast is not as fortunate. Even small amounts of sulfites can stop a wine fermentation dead in its tracks.
Another issue is that bread yeast is only packaged under food-grade conditions. This is certainly suitable for baking. The yeast is only being utilized for a few hours, not days, so the perpetuation of any contaminating organisms do not have enough time to do any damage.
On the other hand, with wine yeast we are talking days if not weeks that the yeast is in play. This is plenty of time for stray organisms riding on the yeast to potentially breed into a full-fledged infestation spoiling the wine. For this reason, wine yeast is package under sterile conditions. This is far more stringent than food-grade packaging.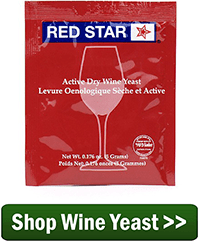 To sum all this up, you can certainly make wine with a baking yeast, but you will be sacrificing flavor and potentially alcohol. You are also increasing the likelihood of having a stuck fermentation. This is because of issues with nutrients and the use of sodium metabisulfite.
So, as I think you can see, wine yeast and baking yeast are not the same. In fact, there are many differences between the two. That combined with the fact that wine yeast is not all that expensive to buy, why wouldn't you use it in your winemaking?
Happy Wine Making
Ed Kraus
—–
Ed Kraus is a 3rd generation home brewer/winemaker and has been an owner of E. C. Kraus since 1999. He has been helping individuals make better wine and beer for over 25 years.