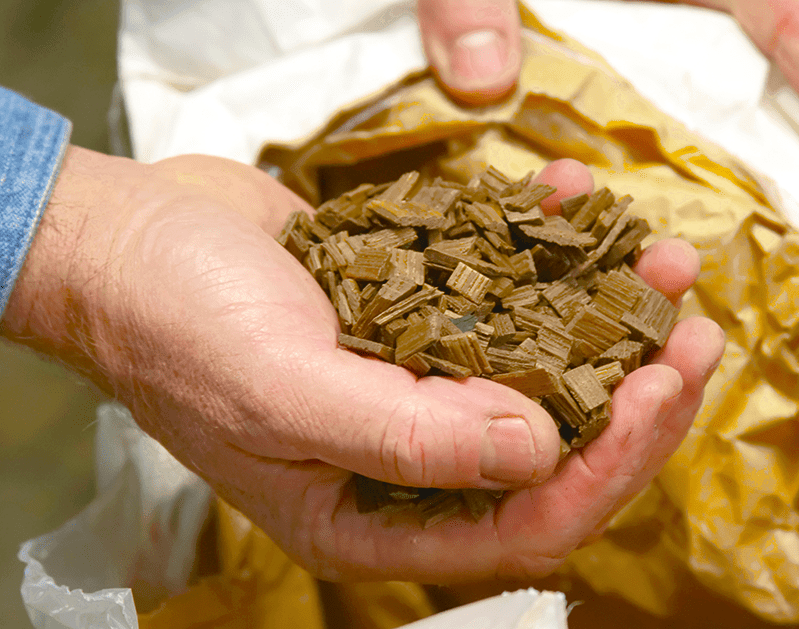 How do you go about oaking wine with oak chips? What type of oak chip would you recommend using on muscadine wine? I'd like to do a little experimenting. My wine is a combination of red and white muscadine grapes yielding a blush/rose type wine. What type of oak chip, quantity per 6 gallon carboy and length of time to soak would you recommend? Thanks much!
Name: Ed P.
State: Illinois
—–
Hello Ed,
Nothing wrong with a little experimenting. For me that's part of what makes wine making so enormously fun.
One thing about oaking wine with oak chips, not all wines will benefit from it. Normally, the wines you would like to add oak chips to are wines with a lot of body. The tannins in the oak will help any excessive proteins in these full-bodied wines to clear out. This will give your wine a little more brilliant color.
The oak chips will also add their own smoothing affect to the wine's character. A rounding-off of the rough corners, so to speak. Heavier wines tend to be harsher than lighter wine. Oak chips will also add some wood flavors to the wine. Some regard this as giving the wine more complexity. These heavy wines are the ones that you should be thinking about considering what wines to oak.
Looking at this from an experimental standpoint, your best option would be to take off a gallon of the wine and strongly oak it. This could be done by adding about 4 to 8 ounces of oak chips to the gallon for a two or three months. Once this is done you can blend a little/some/or all back into the other 5 gallons based on taste.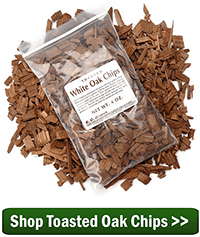 Using this method for oaking your wine with oak chips would give you the most control over the final outcome. The downfall is that you would not want to store 5 gallons of wine in a 6 gallon carboy, so you would need to move the 5 gallons of wine to a 5 gallon carboy during this time. The same holds true for the one gallon sample you will be oaking. Also, you are risking loosing whatever portion of the gallon you do not wish to add back to the wine.
The other method for oaking a wine with oak chips would be add it to the entire 6 gallons of wine, and then taste it along the way to see how it's doing. Usually, once every 3 or 4 weeks. While this is an easier method, you do run a better risk of ending up with a wine you might not care too much for.
How much of the oak chips you would want to add to the wine can vary. I personally like to use 2 ounces to 5 gallons and let it age out for many months. But others like adding 4 or 6 ounces and age the wine for a shorter period of time.
Without question, I would recommend using toasted oak ships. Plain oak chips are rarely used but still have their place. Whether you use Toasted French oak chips or Toasted American oak chips would not make an incredible difference. Either can produce great results. The main difference between the two is that American oak will add sort of a coconut smoothness to the wine, whereas French oak chips will add more of a vanilla richness. One is not better than the other, it's more of a matter of which one will work best with the wine at hand. Without tasting your wine, I would suspect you would want to use the American oak chips–just a guess.
Ed, I hope this information about oaking wine with oak chips is what you were looking for. Just realize that oaking a homemade wine with oak chips is something that does not happen overnight, so you will have time to sample the wine and make careful judgments as to when enough is enough.
Happy Winemaking,
Ed Kraus
—–
Ed Kraus is a 3rd generation home brewer/winemaker and has been an owner of E. C. Kraus since 1999. He has been helping individuals make better wine and beer for over 25 years.