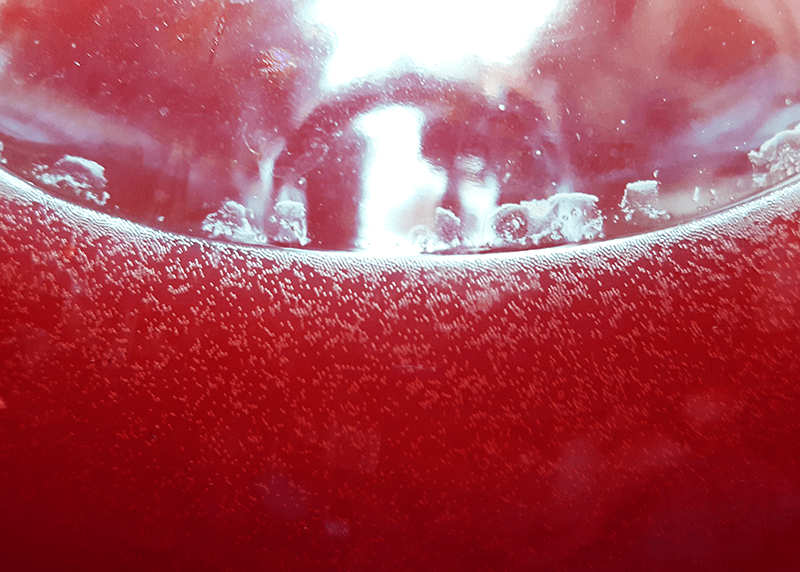 As the yeast eats the sugars, the sweet taste disappears as the sugar is eaten. I have heard you can't stop the yeast from doing their job. But if I want a sweeter wine and my reading has reached an SG of 1.010, can I put potassium sorbate in the fermentation to stop it there for some sweetness instead of letting it ferment to the end at .998 and having to try and back sweeten a dry wine?
Byron J. — FL
—–
Hello Byron,
This is a great question because it covers a two wine making topics that often trip up home winemakers: using potassium sorbate and sweetening a wine.
Let me start off by saying that it is possible to stop a fermentation in progress, but it is much more difficult than just using potassium sorbate to stop a fermentation and/or sulfites such as Campden tablets and sodium metabisulfite. These wine making ingredients will give the fermentation a blow to the gut, but vary rarely will they permanently stop a fermentation. Not good enough for a homemade wine that is destined to be bottled. The last thing any winemaker wants is fermenting bottles of wine.
The potassium sorbate does not stop or inhibit the fermenting in any way. What it does do is stop the yeast from reproducing themselves. During a typical fermentation the wine yeast will go through several re-generations. By adding potassium sorbate to a wine you are making sure that the current generation of yeast is the last generation of yeast. Eventually, the wine yeast will begin to die, but not all at once. Some yeast will live longer than others always leaving a possibility of a re-fermentation occurring, even months down the road.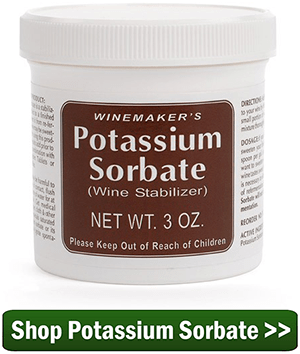 Sulfites, like the Campden tablets and sodium metabisulfite, will destroy some of the yeast cells but not all of them. Domesticated wine yeast are somewhat immune to the effects of sulfite. They are acclimated to the sulfites when they are being produced. This is done on purpose so that a fermentation can exist with some of the protective benefits of sulfites.
Since potassium sorbate won't stop a fermentation, here is what a commercial winery does when they want to stop an active fermentation:
Chill the fermentation tanks down to about 45°F. This causes the wine yeast to stop their activity and drop to the bottom. This can be done in a matter of 3 or 4 days depending on how fast the tanks chill. As a home winemaker, refrigeration should be done for at least a week.
Rack the wine off the sediment. The sediment is mostly yeast cells at this stage of the winemaking process, so by racking or siphoning the wine, you are leaving most of the yeast behind.
Filter the wine. It is vital that the wine be finely filtered at this point. While almost all of the wine yeast is gone, if some is left in the wine they can propagate themselves into larger numbers, regenerating a new colony of yeast that can ferment the wine after it has been bottled. Not a good thing. A winery will typically filter a wine down to .5 micron. This will require filtration under pressure with an actual wine filter system.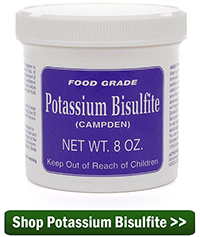 This is how a winery controls the sweetness of a wine, but there is a much, much easier way available to the home winemaker. It doesn't involve using potassium sorbate to stop a fermentation, and it doesn't involve going through all the steps laid out above.
Allow the fermentation to finish. All the sugars will be gone and the wine yeast will start dropping out.
Rack the wine off the sediment. Again, this will leave most of the yeast behind – well over 90%.
Add sugar syrup to taste. The sugar syrup can be made by taking equal parts water and sugar and heating them in a sauce pan until completely clear. You may want to take a measured portion of the wine and add measured portions of the sugar syrup to establish a dosage, first, before committing the entire batch.
Add potassium sorbate and sulfite to the wine. The dosage should be listed on the containers they come in, but you want to use 1/2 teaspoon of potassium sorbate per gallon and 1/16 teaspoon per gallon of either: potassium metabisulfite, sodium metabisulfite, or 1 Campden tablet per gallon of wine.
Bottle the wine right away. If the wine is allowed to sit, some of the sulfite will dissipate, so you will want to bottle the wine on the same day.
By allowing the wine to finish, you will have much greater control on the sweetness of the wine. Instead of saying I want the wine to finish at a specific gravity 1.010, as you have suggested, you can actually sweeten the wine to taste. This is important because some wines require more sugar than others to get the same effect of sweetness than others. Every wine is different.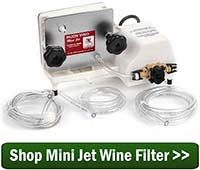 By operating in this way you can also bulk age the wine first. This is a great advantage, because it allows you to sweeten the wine after the harshness has been aged out. Often times when sweetening a young, too much sugar will be added. This is because the winemaker tries to cover up the harshness with sweetness — a harshness that won't be there later.
Byron, I hope this information helps you out. Again, I'm glad you asked about using potassium sorbate to stop a fermentation for the simple fact that it's answer will help to clear up a lot of confusion among new winemakers.
Happy Winemaking,
Ed Kraus
—–
Ed Kraus is a 3rd generation home brewer/winemaker and has been an owner of E. C. Kraus since 1999. He has been helping individuals make better wine and beer for over 25 years.