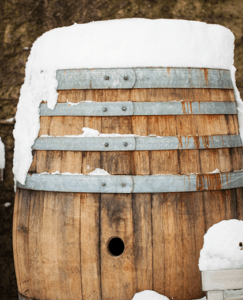 Winter is not only a time of celebration but also a great time for specialty beers. Many breweries make small batches of their own special beer recipes to sell seasonally. These beers can range from simple to complex and can be made "extra wintery" through a specific fruit ingredient or special spice blend. If you are looking to add to your tasting arsenal, here are a few specialty brews that we recommend keeping an eye out for this season:
Anchor Steam Christmas Ale – Since 1975 Anchor Brewing has created distinctive Christmas Ale. This ale is available only from early November to mid-January and is a rich, dark spiced ale. Each year the Christmas Ale recipe changes – just like the bottle label – but their intent of "joy and celebration of the newness of life" remains the same.
Goose Island Christmas Ale – Similar to Anchor Steam, Goose Island changes the recipe to their Christmas Ale each year so there is something different to look forward to every year. Their Christmas Ale is a bitter brown ale with additional spices that change year to year. Goose Island is only available from November to December and they suggest pairing their Christmas Ale with Aged Gouda or a Dry Jack cheese.
Samuel Smith Winter Welcome Ale – Samuel Smith's Winter Welcome Ale is a full body beer resulting from "fermentation in stone Yorkshire squares" and has an appealing taste to many beer advocates. The type of hops used, Fuggle and Golding, are not kept secret. While the recipe stays constant each year, the image used on their label changes annually.   
Heavy Seas Winter Storm Ale – This winter Ale draws on hops from the West Coast and the UK for its pronounced bitterness. A mix of pale and darker malts give it its tawny color and its bigger body. This ale has a nice nuttiness and earthiness to it and is available from October to December. Similar to Samuel Smith's Winter Welcome Ale, Heavy Seas uses UK Fuggle and Goldings hops. This Ale is ideally paired with a nice Brie cheese or pan-seared steak.
Sierra Nevada Celebration Ale – Sierra Nevada's Celebration Ale has been brewed since 1981 and is a "festive fresh hop holiday fun". This Celebration Ale is one of the earliest examples of an American-style IPA. This specific ale is best known for its intense citrus and pine aromas. Celebration Ale is bold in taste and features Cascade Centennial and Chinook hops and is best paired with fish and chips or manchego cheese.
Now that we have told you our favorite winter ale, what's your brew of choice this time of year?  If you want to get started on brewing a winter batch, you can start with our Homebrewing Kit!