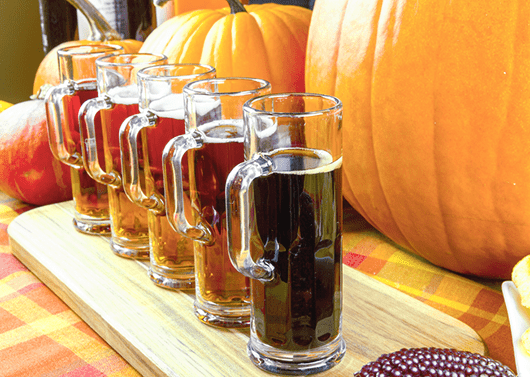 It's time to start thinking ahead to what you might want to drink and share with your friends this fall. Are you a fan of pumpkin beer? Oktoberfest? Consider these suggestions as you're figuring out fall beer recipes are going to be on your homebrewing calendar!
Oktoberfest – Oktoberfest traditionally kicks off at the end of September, though the beer may be consumed throughout the following months. Oktoberfestbier is a lager, meaning you'll have to start brewing it several weeks ahead of when you plan to drink it. Be sure to use plenty of Vienna and/or Munich malt if you brew all-grain or choose a German Oktoberfest Recipe Kit if you brew extract or partial mash. Ferment the beer cold using a Bavarian Lager Yeast for best results.
Pumpkin Ale – With a flavor like pumpkin pie, pumpkin ale seems to be more and more popular every year. Brew a pumpkin ale recipe now and plan to enjoy it from Halloween through Thanksgiving. You can use fresh pumpkin from the pumpkin patch, which will actually contribute fermentable sugar to your homebrew. Consider increasing the grain bill to make an imperial pumpkin ale.
Hard Apple Cider – Nothing says fall quite like fresh apples. If you live in an area that grows apples, keep an eye out at the farmers market for cider apples or fresh pressed, unpasteurized apple juice. Follow this recipe for a basic cider, but consider adding some herbs or spices to mix it up. Ginger is a flavorful choice.
American Amber Ale – With a maltier backbone than a pale ale or IPA , a good amber ale is a fantastic choice for a fall beer recipe. It provides a nice transition into the colder months that favor darker, heavier beers. Amber Ales can be either hoppy or malt forward – the balance is up to you. Consider brewing the Phat Tyre Recipe Kit – it's a clone of New Belgium's Fat Tire, a malty, biscuity ale with just a hint of Belgian malt for a balanced, nutty flavor and full-bodied mouthfeel.
Fresh Hop Ale – American hop growers harvest their hops in the late summer and early fall. If you have any growers in your area – or if you grew some hops yourself – try to get your hands on some hops straight from the field. Use them towards the end of the boil to maximize the flavor and aroma you get from those fresh-picked hops. Because fresh or "wet" hops weigh more, you'll need six to eight times as much as you would using dried hops in pellet form. Try using your wet hops to dry hop a pale ale, IPA, or Black IPA this fall.
Do you have a favorite fall beer recipes? What are some of your favorite fall beers?