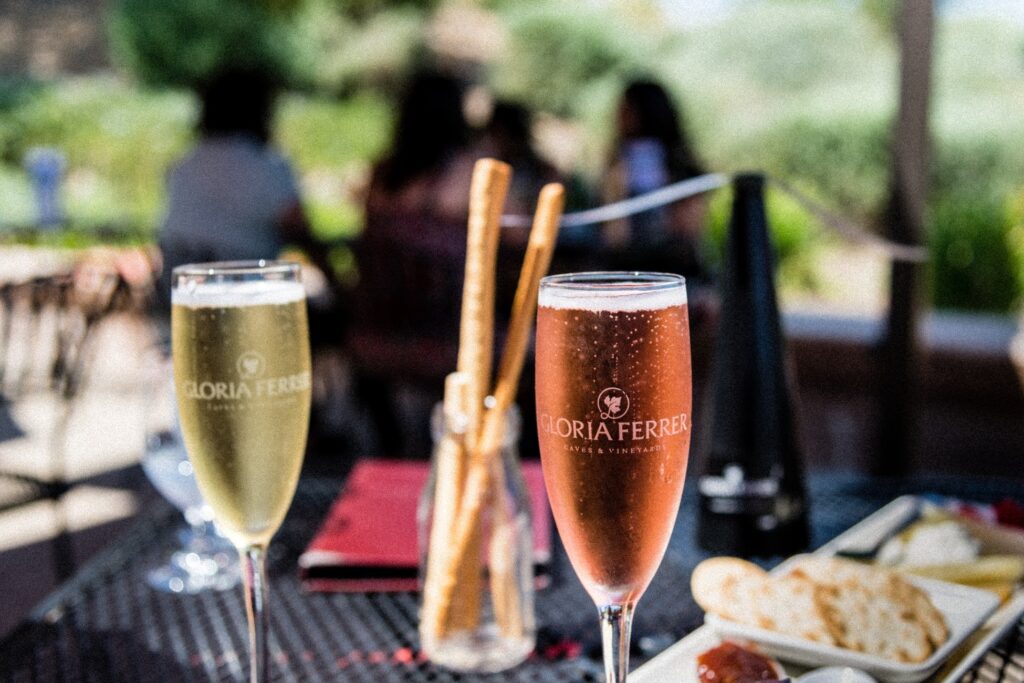 It's summer time! What better way to celebrate warm weather than with a refreshing glass of wine?
This year has been pretty crazy, so kick off your shoes, lay back, and enjoy a heavy pour or two. (We don't judge.)
Summer Wine Pairings
Wines are great by themselves, but can be even better when paired with the right food.
Food and wine go together like sand and the ocean. Let's dive into the must have wines for this summer and their perfect pairings.
White Wines
White wine has a nice refreshing taste perfect for hot weather. Here are our favorites that are guaranteed to have your taste buds singing!
–Pinot Grigio: This wine fluctuates in flavor depending on the region it's fermented, but always pairs well with seafood. We recommend fresh boiled lobster or garlic lemon creole shrimp to compliment the wine.
–Chardonnay: because this buttery wine is subtle in nature, it is important to pair it with mildly flavored food. Chardonnay is best paired with roasted chicken or a creamy alfredo.
Red Wines
Red wine is typically a bit more heavy than white, so people tend to shy away from it in the summer. However, there are great red wines that are just as refreshing in the hot weather.
–Pinot Noir: This versatile wine is nice and light for a refreshing taste. It pairs great
with meats such as grilled pork chops.
–Carménère: This is perfect for those red wine and steak lovers. The rich cherry flavors make it an absolute dream to sip on. Carménère is best served slightly chilled with a thick and juicy steak.
Rosé Wines
Rosé wine has the perfect pink color to really get you in the summer mood. With a variety to choose from, there's always a delicious taste inside each bottle.
–Grenache Rosé: This wine has a refreshing aftertaste for those extremely hot
summer days. Keep it light with a nice house salad or a caesar salad wrap.
–Sangiovese Rosé: This bold wine is best served chilled to taste the layers of peach,
melon, and rose. It's very versatile and can be paired with anything you want! We recommend orange chicken or even thai.
Summer Activities
Not only does wine pair well with food… it can taste that much better during one of your favorite summer activities.
Here are our favorite outdoor summer wine activities.
Backyard Picnic
If you're still not ready to go out to a public restaurant, bring the restaurant to you! Set up a cute picnic in your backyard and order food from your favorite eatery.
Grab a picnic blanket, napkins, two glasses, and a bottle of wine. Even a boombox with some summer jams to set the mood.
Make sure you're pairing the right food with the wine you choose. We suggest a rose wine to give you that summer feel and cool you down while you're outside in the hot sun.
Wine Tasting
Another fun idea at home is a DIY wine tasting. Invite your friends over, and set up a nice wine tasting in your kitchen or outdoor space.
Grab a variety of red and white summer wines and try guessing the fruits and flavors that make up each wine. Make sure to have light snacks on the counter too for a proper tasting and pairing.
Beach Day
Sun, sand and six feet apart… the beach never sounded so good!
Grab your friends and your wine cooler. Sipping wine blissfully on the beach is hard to beat. After riding the waves, or building sand castles, make a toast to social distancing while having fun.
Don't forget the sunscreen! Excessive UV rays are great for grapes, not necessarily you.
Whether you're at home or outside, summer wines are the way to celebrate great weather, tasty food and fun activities.
Have a great summer!