Stuck at home? Pass the time with a new brew.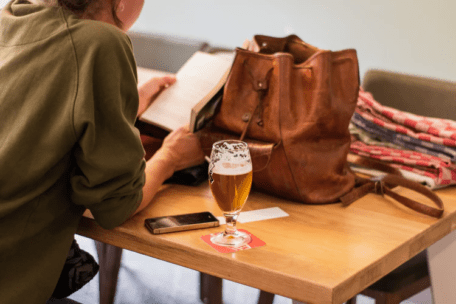 Spending time at home can get a little stale, which is why you need a new companion by your side as you organize your closet or watch mindless hours of television (no judgments). 
We recommend taking this time to try something new, daring, and exciting, like… nutty beer. It's a rising trend in the beer community, definitely worth a taste, and a great way to pass the time. 
Of course, if you or a family member has a peanut allergy, please do not try this at home. Check out our other ideas instead here.
Popular Peanut Butter Beers
It's important to note that many breweries craft their nut beer differently, so you can't go wrong as you experiment. There are a variety of nut types, textures, and flavors to use, so grab whatever you have at home!
Here are some popular peanut flavors from breweries around the United States to help you get an idea of where to start:
Rusty Rail Brewing | Fool's Gold
Fool's Gold is Rusty Rail's best-selling beer in Pennsylvania. It's an imperial peanut butter hefeweizen combining banana esters and peanut butter to make a distinct, popular nutty brew.
If you're ever in Pennsylvania, try it out. They are the largest brewpub in the state too!
Mast Landing Brewery | Gunner's Daughter
Gunner's Daughter is a best-seller for a reason. With peanut butter and milk stout flavors, this brew pays homage to a beloved Halloween candy – Reeses' Peanut Butter Cups.  This beer was supposed to be a one-time special release, but it quickly became a year-round staple. 
If you have Reeses' at home, consider adding them to your recipe.
Lakewood Brewing | Peanut Butter Temptress
Peanut Butter Temptress was a popular brew that constantly sold out because it was delicious, but difficult to make. They used a combination of dry peanuts and milk stout to capture the rare taste.
DIY Nutty Brew
Since you can't go to the brewery, we're bringing the brewery to you. Let's look at how a couple different breweries make their batches so you can see how to replicate it at home. 
Remember, making the perfect nutty brew takes time, so be patient.
Tin Whiskers Brewing Company
Tin Whiskers uses PB2 powdered peanut butter by pressing the nuts to remove most of the oil. It's important to get the oil out so the head retention does not reduce. 
Once the peanuts are powdered, this brewery adds the mixture into the brew after fermentation when the temperature of the brew is cooled. 
Key Ingredients: Nut Goodie Porter and Salted Nut Roll Ale candy from Pearson's Candy Company. 
If you don't have this candy at home, no problem. Although it's a little messy, you can use organic peanut butter as a substitute, and add it after fermentation. (Just make sure it's not too hot!)
O.H.S.O Eatery & Nano-Brewery
This brewery does a three step process when making their nut-flavored beer. You can choose to do all three or just one! 
The team uses powdered, whole, and extract peanuts for their three layer nutty beer. The first step they take is adding honey, lactose, and sea salt to the boil, and then finish by adding PB2. 
Similar to dry hopping, the next step is to add dry honey roasted whole peanuts after fermentation, and then let this mixture sit for no more than five days. After this, they add a little bit of peanut extract to enhance the aroma of the beer. 
If you don't have peanut extract or PB2, regular peanut butter and nuts will work fine for this recipe. Just add the peanut butter to the boil, and the nuts after fermentation. You can also substitute the peanut extract with vanilla extract and see how that goes! (Either way, it will be fine without it). 
There are many different combinations of nuts and methods you can try in order to achieve the brew you want, just keep trying different flavors from your pantry!
Stay safe, always practice good kitchen hygiene, and let us know how you're enjoying your nutty brews in the comments below. 
Happy brewing!