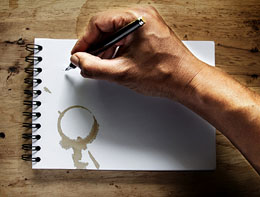 Homebrewing can be such a personal hobby. After all, we spend time researching, preparing and making the beer we love so much.
This Valentine's Day, let's not lose track of why we fell head over hydrometer for homebrewing in the first place. Today, I'm looking back at some of the special moments I've spent – and will spend – with that boozy love of ours.
——————————————-
Dear Homebrew,
It's been a wild ride since things first started fermenting years ago. I feel like our relationship is still hotter than my propane burner blasting 55,000 BTUs to warm you up. I've been thinking about all our wonderful time together…
Meeting Homebrew
It's crazy how things like this happen, isn't it? A lot of people use the Internet to find brews like you these days, but I guess I'm just old fashioned. It was really nice for Andrew to introduce me to you. A friend of a friend. You inoculated me with love at first sight. No adjuncts needed.
I thought it was kind of weird that Andrew wanted to chaperone the first time we met, but it was his brew day and I was just along for fun.
The First Date
Wow. You really looked great that afternoon. I'll never forget how your boiling wort frothed up twice during the boil. But you never overflowed. I knew from the start you were a kind and gentle soul. Your IBUs were low because how could you ever treat me bitterly? It's like this was meant to be.
I really appreciated the care you put into how you looked and smelled. I know I was only steeping grains for you, but that aroma of 2-row and Crystal 20 malts was intoxicating. You sure do know how to drive a homebrewer wild.
The First Overnight
I'm usually pretty bad at this – I was so nervous. I mean, you had already come home with me and the owner at the local homebrew shop was really nice when he sold me your ingredients. I couldn't wait to pay attention to your attenuation.
I felt bad about leaving you all alone in the downstairs closet. Do you get lonely? I thought I heard you crying, but it was just the "glug, glug, glug" of active fermentation. Your microorganisms sure do work fast. Wyeast 1056 seemed like such a good fit. I was so happy you liked it too.
Getting Engaged
It wasn't clear when we first met, but I knew you came into my life to fill a beer-shaped hole in my heart. We have a hot break that lasts and lasts. That's why I never want to let you go.
I loved that you could leave all your stuff at my place – I primed the perfect spot in the attic for all your pots, buckets and airlocks. There's even a nice location for you in the fridge. A shelf that I knew you'd like a lot and will always be ready for you.
Marriage
At first I thought my wife would get jealous of our relationship, but it became clear that we could all co-exist. It was real ale love.
When we argued about you, I promise it wasn't meant to make you upset. It's just that sometimes when we have our dates, you take up three or four hours of my time and that can get in the way of other things. Especially when I pay extra attention to your partial mash.
Don't worry, though. I'm committed to you. Long term. The Missus knows I love her; it's just different with you. That's why I knew I needed to put an O-ring on your keg.
A Long Life
I have a feeling this relationship will go on for a long time. Let's not get caught up in the threat of terminal gravity.
You don't know how much I look forward to spending anniversaries with you. We've already celebrated a few and when we mark our fourth year together in 2014, I'm pretty sure I already know what kind of traditional fruit present I'm going to get you. Here's a hint: you'll be a wheat ale soon.
———————————————————————————————————–
Bryan Roth is a beer nerd and homebrewer living in Durham, North Carolina. You can read his thoughts on beer and the beer industry on his blog, This Is Why I'm Drunk, and send him suggestions on how to get his wife to drink craft beer via Twitter at @bryandroth.