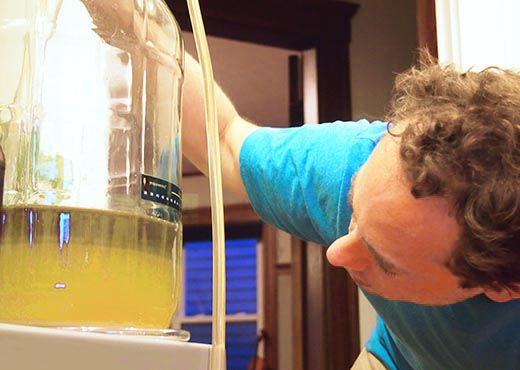 Can I add potassium sorbate to individual bottles as I fill the bottles with wine. I am making cyser and want to back sweeten with a little more honey and add the potassium sorbate to individual bottles. It is a 5 gallon recipe and was started in November. I want to bottle now, readings are telling me its safe. There is no residue of yeast at the bottom, but I really don't want to siphon the wine into the carboy and stir anything that I cant see up. What say you.
Name: Suzanne K.
State: Virginia
—–
Hello Suzanne,
I understand your concerns about disturbing the sediment when siphoning, but what you are thinking of doing is not very is not very practical.
The amount of potassium sorbate required for each wine bottle is such a small amount that it would be very hard to measure it accurately enough for each single bottle. You would be much better off by siphoning into another fermenter, off any sediment (also referred to as "racking"), then mixing in the potassium sorbate to the entire batch along with any sweetening.
The fact that you are not seeing any sediment at the bottom of the fermenter is a very good sign, and makes me think that there isn't any, since sediment is easy to spot in a lightly colored wine.
But if you are worried about disturbing the sediment when siphoning – seen, or not – the trick is to siphon gently. That's how to siphon when without stirring up sediment. Have someone hold the siphon hose into the top half of the wine as someone else starts the siphon. Always draw your siphon from the upper part of the wine. As you get towards the end, you may want to tilt the container so as to corner the last bit of wine.
If you want to learn how to siphon wine without disturbing the sediment, the first thing you have to is understand that it's not so much about a siphoning technique or experience as it is having the right pieces of equipment. There are several items on the market that will make racking the wine or wine much easier to do than just using a plain piece of hose. These handy little items are the key to siphoning the wine without stirring things up.
Racking Canes:
One of them is called a racking cane. It is a rigid piece of tubing that allows you to point to where you are drawing from. It attaches to the end of your siphon hose like a wand. At the very bottom end of the tube is a diversion tip that makes sure that you do not draw from the very bottom of the container. On the top end is a hook or curve that points down toward the fermenter being racked into.
Auto Siphon:  
Quite often, starting the siphon is what causes a lot of the sediment to get stirred up. This is when most of the fumbling around happens, and consequently, the unintentional disruption of the sediment. One great invention for resolving this issue is The Auto Siphon. It allows you to start a siphon with virtually no movement at all. It's like a racking cane and pump all in one. You just attach it to the siphon hose like a racking cane, and then slowly slide the inside tube up one time and then down one time to start the siphon.
Racking Tube Clamps:
As an extra precaution, to make absolutely sure you do not disrupt any of the sediment when racking, you can use a racking tube clamps. These act as a third hand to keep things secured, in one position, and not moving around. You can get a Auto Siphon clamp or a racking cane clamp, depending on which you are using to draw the wine.
Suzanne, use these items and you'll never have any problems with sediment getting stirred up.
How about anyone else. Do you have any tips or ideas on how to siphon a wine without disturbing the sediment?
Happy Winemaking,
Ed Kraus
—–
Ed Kraus is a 3rd generation home brewer/winemaker and has been an owner of E. C. Kraus since 1999. He has been helping individuals make better wine and beer for over 25 years.