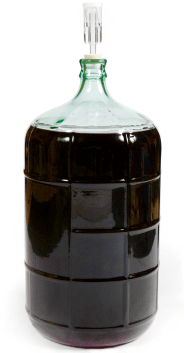 I generally wait until the stuff has settled out of the wine, and then I very slowly siphon my wine. I have set my wine outside when it is below 0 degrees and that clarifies it. I know there is a chemical I can use but I don't like doing that. My biggest problem is the waste that occurs when I siphon. Is there a filtering method to save this wine? Thanks!
Name: Roger M.
State: WI
—–
Hello Roger,
Thanks for asking such a question about racking your homemade wine. Losing too much wine when racking is something that is concerning to many home winemakers.
Fortunately, there are a few things you can do to decrease the amount of wine you lose when racking (siphoning) your wine. These are simple little techniques that will allow you lose less wine. I'll go over them one-by-one:
Use An Actual Wine Yeast
By using a wine yeast verses baker's yeast, you will be able to get more wine with less sediment. Wine yeast is bred to pack more firmly to the bottom of the fermenter. This creates a sharper line between the wine and the sediment. This makes it easier for you to get all the wine.
Tilt The Fermenter
By tilting the fermenter towards the end of the siphoning you can cause the wine to roll off the yeast, into the corner, giving you a deeper area to siphon from. This is very helpful. Again, an actual wine yeast will help in this regard. If the yeast doesn't pack firmly, this method is not nearly as effective.
Save The Murky Stuff
If you are in a situation where there is a lot of cloudy wine towards the bottom, save it in a separate container, like gallon jugs. Give it more time to clear up on its own. Then siphon off the sediment.
Rack (Siphon) The Wine More Than Once
Rack the wine right after the fermentation has completed. Wait a few weeks and then rack the wine again, right before bottling. And here's the secret part. When you do the first racking, get as much of the wine as you can, even it if comes with some sediment. But when you get to the final racking, before bottling, do whatever it takes to leave all the sediment behind. What you will find by doing this is that you will have very little sediment at the last wine racking, maybe a dusting, causing you to loose hardly any wine at all.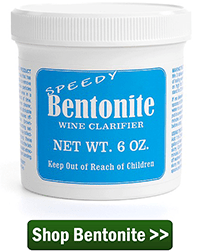 Additional Thoughts:
You mentioned that you did not want to add chemicals to your wine, but I would ask you to consider adding bentonite to your wine to help clear it out faster and pack more firmly on the bottom. Bentonite is a natural clay that attracts particles such as the wine yeast and fruit fiber, and drags it to the bottom. We sell it in a food-grade form. It does not permanently mix with the wine and does not affect the wine in any way other than to clear it. The bentonite settles out and is left behind, just like the particles. This will help you quite a bit.
I hope these tips on racking your wine helps you out. Another blog post that you might want to take a peek at is How Do I Get The Wine From The Sediment? This blog post may give you some clearer ideas on racking your wine.
Happy Winemaking,
Ed Kraus
—–
Ed Kraus is a 3rd generation home brewer/winemaker and has been an owner of E. C. Kraus since 1999. He has been helping individuals make better wine and beer for over 25 years.