The holidays are here!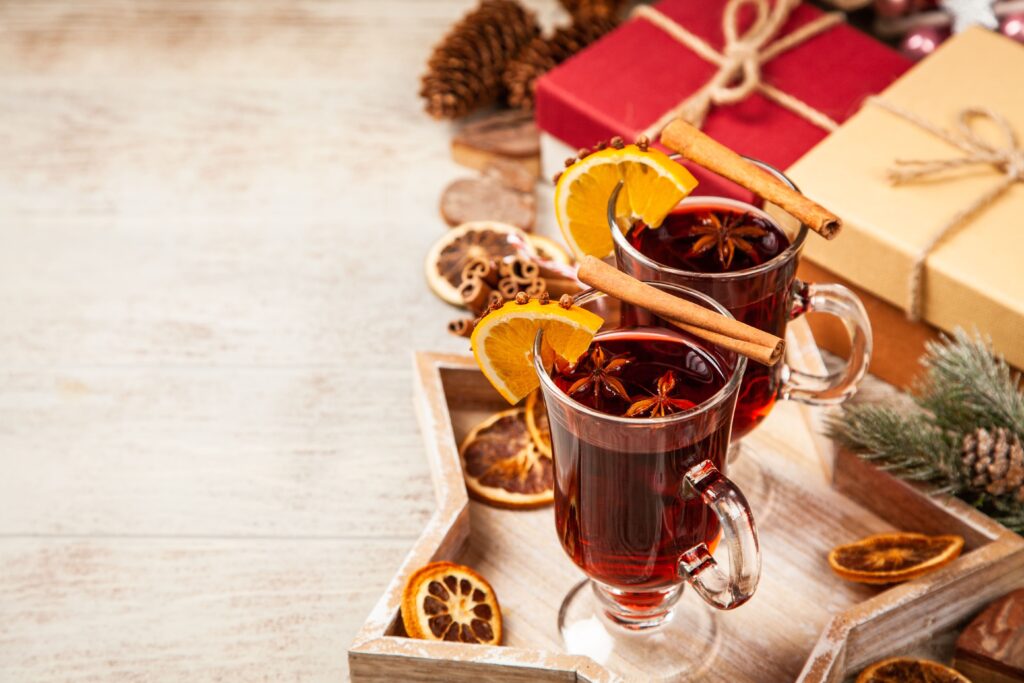 That means cold weather, cozy nights, and non-stop festivities until the new year. If you're looking for a recipe to show off and impress guests, we have the perfect wine for you.
Start the season by making a batch of mulled wine. It'll warm your fingers, toes and the hearts of others – 'tis the season after all.
What is Mulled Wine and How Do I Make It?
Historically, mulled wine has been used to repurpose harvest leftovers, warm the body during the cold months, and "heal" with its spices. The holiday drink we know and love today is really a product of Victorian England, with authors like Charles Dickens writing about mulled wine in "A Christmas Carol". 
As a time-honored tradition, mulled wine will keep guests warm and satisfied throughout the holidays. It may sound complex, but it's surprisingly easy to make, and a guaranteed crowd-pleasing cocktail. 
First things first. Make sure your pantry is stocked with these items: 
Your favorite wine – this is also a great time to show off your skills with your own

handcrafted wine

!

Mulling spices (details on these later)

A large pot or slow cooker 

Something to serve your drinks in

Optional: A snack pairing

Optional: Mulled wine pairs well with a partner – feel free to add extra booze. 

Spirits like brandy, cognac and gin will spice things up!
WARNING: Mull with caution 
Do NOT BOIL your mixture. This can spoil your drink. 

Whether you are buying or making your wine, make sure it's not too heavily oaked to avoid bitterness.
What Type of Wine Should I Use?
As you're getting your list together you may be wondering what type of wine is the best to use. Thankfully, almost any variety will do. The only catch is that some mulling spices pair better with certain wines than others. 
Tip: if you're purchasing wine from a store, it's perfectly fine (and encouraged) to use cheaper wines for mulling. More expensive, complex wines often lose their intricate notes in the mulling process.
What Spices Should I Use?
If you've taken a look at a few recipes, you've probably noticed some common spices:
Cinnamon

Oranges

Star Anise 

Honey 

Some sort of extra liquor
All of these are staples, but they are not set in stone. Have fun with your recipes and explore adding different fruits and spices to your wine. And if you're short on time, some retailers sell premade mulling spice mixes like this one. 
Mulled Red Wine 
The classic mulled wine is a dry, red variety- Syrah, Merlot, Cabernet, pick your preference. You can make mulled red wine as simple or complicated as you'd like (though we prefer simple so you have time to prep other things). 
Spices:
Cinnamon

Cloves
Oranges

Honey

Star Anise
Here's an easy mulled wine recipe to get you started!
Mulled White Wine 
While using white wine isn't as common, some lean towards a lighter taste (think Viognier, Chardonnay or Pinot Grigio depending on the recipe). With this variation of mulled wine, winter fruits such as pomegranate, cranberries and oranges stand out in flavor and presentation.
Spices:
Cinnamon

Oranges
Honey

Star Anise

Lemons

Cranberries

Pomegranates 
For an extra kick, try spicing things up with this Apple Mulled White Wine recipe.
How to Serve Mulled Wine
You've made your very first batch of mulled wine. Congrats! Now, let's find something to serve it in and with.
Mugs vs Glasses
Since mulled wine is mostly served warm, many opt for serving in mugs because they keep it warmer longer. However, if you're focused on a nice presentation use glass mugs, double-wall glasses or special mulled wine glasses. Add a little flare by topping it off with a fresh piece of fruit used in your recipe, or a cinnamon stick. Going the extra mile here will make a lasting impression on your guests and elevate your drink.
Mulled Wine Pairings
Looking for the perfect dish or appetizer to serve with your impressive creation? Here are some ideas to pair with your mulled wine.
Cheese board 

If you are pairing with something sweet, consider Roquefort, Bleu Cheese, Gorgonzola, or Comté – they'll bring out the cinnamon and clove notes!

Spiced nuts

Fondue 

Mince pies  – if you're feeling fancy!
It's official. You are now a mulled wine connoisseur! We hope you enjoy sipping your cocktail as you share your recipe with friends and family. 
Cheers!