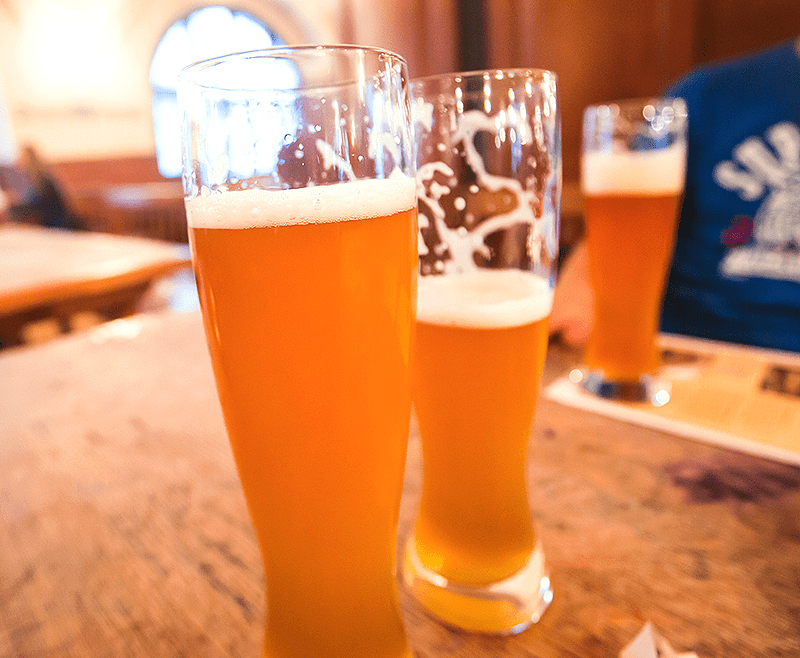 Today we will explore the beers from one of the world's top brewing regions: Germany. Many of the world's popular styles of beer are derived from classic German styles. Home brewing German beer is no harder or easier than brewing other types of beer, and the array of flavors is nothing short of fulfilling.
Bamberg Smoked Beers
Bamberg, in the central region of Germany called Franconia, is the home of rauchbier (rauch = smoke in German). The smoked beers of Bamberg are mostly lagers, ranging from pale in color to amber or brown. The smokiness can be anywhere from mild to very assertive. Brew your own smoked beer using Briess Smoked Malt. As little as a pound will add noticeable smoke flavor to any beer style. A classic rauchbier should be similar to Märzen in appearance, and may use as much as 100% smoked malt.
Bavarian Wheat Beers (Weizen)
The southern region of Germany is known as Bavaria, with Munich being the capital as far as brewing is concerned. Bavaria is home to weissbier (white beer), also known as weizenbier (wheat beer), to great German beer styles. Variations on the style include dunkelweizen (dark wheat beer) and hefeweizen, a wheat beer served cloudy with its own yeast (hefe = yeast). Some of the popular German brands include Erdinger, Schneider, and Paulaner. Bready, effervescent, with a hint of banana and clove, weizenbier is especially refreshing during the summer months. If this is your first time home brewing German beer, than this is a good style to start with.
Oktoberfest/Märzen Lagers
These amber lagers have been made popular by the annual Oktoberfest celebrations in Bavaria. Only breweries within the Munich city limits are allowed to serve their beer at the main Oktoberfest festival. These include Spaten, Augustiner, Hacker-Pschorr, Löwenbräu, Paulaner, and Staatliches Hofbräu-München. Check out our Oktoberfest blog post for more information and beer recipes for home brewing an Oktoberfest/Märzen lager. Anyone interested in home brewing German beer might best be served by giving this one a go.
Kölsch
Born in the Western city of Cologne (Köln in German), the Kölsch is a very pale lager/ale hybrid. Though fermented with top-fermenting ale yeast, this beer is conditioned at colder lager temperatures, which helps give it a clean, crisp character. In fact, lager is a German word meaning "to keep" or "to lay down." Read our Tips on How to Brew a Kölsch and check out the Brewers Best Kölsch Recipe Kit to brew your own Kölsch!
Roggenbier
Roggen is the German word for rye. Roggenbier is native to Regensberg, in Bavaria. It is similar to the German Dunkelweizen (dark wheat beer) except that malted rye is used in place of malted wheat. Rye can get sticky in a mash; rice hulls can help avoid a stuck mash. A classic roggenbier may use as much as 50-65% rye malt, with the rest of the grain bill coming from pale malt, Munich malt, wheat malt, and/or crystal malt. The weizen ale yeast should be used to achieve the banana/clove characteristics of this style.
Altbier
Altbier literally means "old beer." Not that the beer is especially old! The name just means that the beer is brewed in the old style. Northern German Altbier is defined as a moderately bitter brown lager. It's a great beer to start with for someone thinking about home brewing German beer styles. Though they may be made with ale yeast, they should be fermented cool and lagered. Altbier is also popular in the German city of Düsseldorf. Düsseldorf Altbier differs from Northern German Altbier in that it tends to have a more robust (but not roasty) malt flavor and more assertive noble hop bitterness.
German Light Lagers
Lumped together in this broad category are a number of notable styles, including Munich Helles, Dortmunder Export, and Pilsner. Helles means "light" in German, in reference to the color of these beers. These pale lagers are relatively new styles, since pale malts weren't made until advances in technology during the Industrial Revolution. Each of these lagers are very clean and pale in color. The dominant flavor in the Munich Helles should be the light grain, often Pilsner malt. German Pilsner tends to feature more noble hop bitterness and flavor. The Dortmunder Export is a slightly stronger lager than the Helles or Pilsner, featuring more substantial body and a good balance between malt and hops.
German Dark Lagers
Prior to the mid-1800s, all German lagers were dark. Munich Dunkel (dunkel = dark) is a classic lager, featuring loads of rich Munich malt, as much as 100% of the grain bill. The color of a Munich Dunkel ranges from copper to dark brown. Even darker than the Dunkel is the Schwarzbier (Schwarz = black). Though it tends to be more brown than black, schwarzbier is chocolaty and full-bodied, often with a dry, tangy finish. Contrary to what a drinker might suspect, schwarzbier is exceptionally smooth and sessionable. For this reason, it is one of the better German beer styles for home brewing. Intrigued? Brew a schwarzbier with this malt extract schwarzbier recipe.
Berliner Weisse
This is a very pale style of beer usually brewed with 30-50% malted wheat. The defining characteristic however is that the beer is fermented with a lactobacillus bacteria culture, which gives the beer a tart, sour acidity that's actually quite refreshing. There was a time in Germany when Berliner Weisse was extremely popular and referred to as "the Champagne of the North." Though it is not as popular today as it once was, the style has made a resurgence among craft brewers in the United States. This recipe for a Cranberry "Lambic" allows the homebrewer to replicate the tartness of the Berliner Weisse without the bacteria culture.
Bocks
Bockbier was developed in Northern Germany. The name likely comes from the town of Einbeck, where bocks were first made as early as the 14th and 15th centuries. German bocks are very strong lagers, ideal for consumption during the colder months of winter and early spring. Bocks tend to be smooth and malty sweet. Doppelbocks are even stronger versions, usually at least 6.8% ABV, and often with the suffix –ator in the name. Paulaner Salvator is the classic example. Maibock or Helles Bock is lighter in color, though just as potent as a traditional bock.
Home brewing German beer recipes is an excellent way to get you brewing "chops". We have several beer recipe kits featuring German style beers. All the way from Kölsch to Bock, there is a favorite German beer style waiting for you. Which one will you brew first?
—–
David Ackley is a beer writer, brewer, and self-described "craft beer crusader." He holds a General Certificate in Brewing from the Institute of Brewing and Distilling and is founder and editor of the Local Beer Blog.