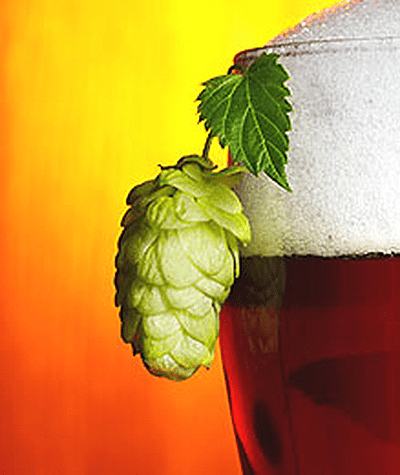 Dry hopping is a popular technique for adding a burst of hop aroma to beer. Basically, all you do is add hops during the secondary fermentation. Because the hops aren't boiled, they won't contribute much bitterness (IBUs) to your beer. Dry hopping your beer can lend desirable pine, grapefruit, citrus, or floral aromas, depending on the hop variety you use.
Many popular American craft beers are dry hopped, especially pale ales and IPAs. Sierra Nevada's Torpedo Extra IPA, makes use of a hop back, or torpedo as they call it, which circulates conditioning beer through a stainless steel vessel packed with whole cone hops.
But don't let complicated brewing equipment intimidate you — dry hopping your beer at home is easy!
When should I add the dry hops?
The most convenient time to dry hop is when transferring from primary to secondary fermentation. Hops can be added at any time during the secondary fermentation, but for best results, they should have at least a few days to work their magic.
What variety of hops should I use for dry hopping?
Hops with low alpha-acids, usually referred to as "aroma hops", are best suited for dry hopping. Examples of aroma hops include: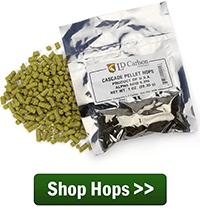 Should I use pellets, plugs or whole leaf for dry hopping?
It is best to do your dry hopping with pellets as opposed to whole leaf hops. Due to the processing involved in producing hop pellets, the aromatic oils are more accessible. They're also a little easier to separate from the beer than whole leaf hops.
How much hops should I use?
A good range to stick with is 1/4 to 2 ounces of hops for a 5 gallon batch, though I think some hop aficionados are prone to adding more.
Will adding hops contaminate my brew?
If you're worried about contamination you could briefly steam the hops before adding them to the fermenter, but most will agree that the alcohol present in your beer after primary fermentation will protect it against bacteria.
What about straining the hops?
Regardless of how you go about dry hopping your beer, the hops will need to be strained from the beer one way or another
DIY screen – You can try attaching a sanitized screen to the bottom of your racking cane when siphoning the beer from the secondary fermenter. An auto-siphon, which makes life much easier for the homebrewer, has a tip that won't let much through, you could tie a sanitized hops bag around the bottom for some added filtering.
Put the hops in small mesh hop bag – Placing the hops in a hop bag before even adding them to the beer is probably the easiest option. A brewer in this forum recommends tying dental floss to the bag for easy removal – you'll probably want to use unflavored floss, unless you'd like a little mint or cinnamon flavor in your brew!
Cold crashing – Dropping the temperature on your secondary fermentation will help the hops settle out to the bottom of the fermenter, making it easier to siphon beer into a bottling bucket or keg without pulling along a lot of hops material.
Hopefully, this information will help you out. Just remember that the best way to go about dry hopping is to use hop pellets in the secondary fermentation. Use somewhere around 1/4 to 2 ounces, and stick with a variety of hops that is big on aroma and low in bitterness.
Have you tried dry hopping your beer? How did it turn out?
—–
David Ackley is a beer writer, brewer, and self-described "craft beer crusader." He holds a General Certificate in Brewing from the Institute of Brewing and Distilling.