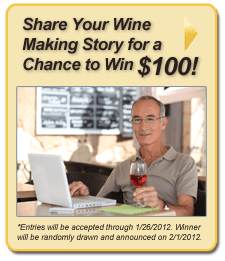 We just did the $100 drawing for the winner of the Share Your Wine Making Story contest. The drawing was comprised of participants who submitted their wine making stories between January 18th and January 26th on the Adventures in Homebrewing Wine Making Blog.
It was a random drawing, so if you didn't win, don't think we didn't like your story. If fact, we saw a lot of stories that were very interesting and enjoyable to read. Not only did we raise a glass to many of them, but we received lots of comments from fellow wine makers who enjoyed them as well. With that in mind…
A Very Special Thanks Goes Out To Everyone Who Participated!
The Winner of the Share Your Wine Making Story contest is Dennis Freitas of California. His story included a couple of pictures of the San Pedro Wine Club, a 10 member wine club in West Sacramento. Dennis will receive a $100 Virtual Gift Certificate good for products purchased at E. C. Kraus Wine & Beer Making Supplies.
______________________________________________________________________________________________
Do You Have A Wine Story To Share?
Even though the contest is over you can still share your story with us. We've had such a wonderful turnout that we would like to keep this avenue of stories coming in for all to read. All approved stories will be featured on our Wine Making Blog and on our Facebook Wall.
———————————————————————————————————
Ed Kraus is a 3rd generation home brewer/winemaker and has been an owner of E. C. Kraus since 1999. He has been helping individuals make better wine and beer for over 25 years.