I have an old wine recipe that came from Germany, through the family, but the wine recipe doesn't call for yeast of any kind… What does the yeast do and is it essential in home wine making?
Thanks, Connee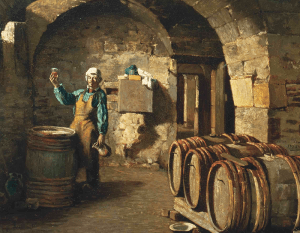 Hello Connee,
Simply put, yeast is where the rubber meets the road. Without wine yeast you'll have no fermentation, and with no fermentation you'll have no alcohol! That's why it is imperative that the starting wine must has yeast of some kind, even if the wine recipe doesn't call for yeast.
 
What's Going On?…
What's happening when you make wine is sugar is being turned into alcohol through a process called fermentation. Yeast is what performs the fermentation. Each yeast is a single-celled, living organism that literally eats the sugars that are in the wine must and turns it into alcohol and CO2 gas. This is what wine making is all about.
 
Where Does The Yeast Come From?
Some older wine recipes – like the one you have – will have no yeast of any kind in the recipe. This is because the yeast are expected to be provided by the fruit, naturally. Fruit, whether it be grapes, peaches, or strawberries, already have wild yeast on them so there will be a fermentation of some kind; it will just be fermenting wine without yeast you've added.
Using the yeast that Mother Nature provided was an acceptable practice way-back-when because wine yeast was not readily available. And, if your wine recipe is really, really old, they may not have even known that yeast doing the job. The connection between yeast and fermentation was not put together until as recently as 1857. So as you can start to see, this may be why your wine recipe doesn't call for yeast of any kind.
 
Is The Wild Yeast Good Enough?
Homemade wines made from wild yeasts are marginal at best. Typically, the yeast found out in the wild have trouble fermenting to an acceptable alcohol level. The flavor and aromas they put off can be objectionable. Wild yeast wines also have a harder time clearing up. This is primarily because the yeast do not collect and clump together like domesticated wine yeast do (flocculation). The clumping helps the yeast to drop out cleanly and quickly. Domesticated wine yeast are bred to do this.
The only exception to this are some Old World wineries that rely on feral yeast from the vineyard. Feral yeast is maintained but out in nature. Great care is taken to keep the yeast strain maintained in the fields. Spent pulp from the fermentation is put back into the soils along the fines so that the yeast within the pulp can cover next year's crops.
 
Yeast Today
Today things are different. Wine making yeast are readily available from wine making shops like us. These are the same strains of wine yeast used by professional wineries. They are able to ferment to an acceptable alcohol level and produce a much cleaner flavored wine. And, their cost is not that much different than buying a pack of baker's yeast.
There is an entire array of wine yeast strains from which to choose. Each one has slightly different flavor characteristics or different qualities that make it well suited for a certain style of wine. You can find an example of some of these characteristic in this wine profile chart.
 
Here's My Recommendations
My advice to you – without seeing the wine recipe – is to go ahead and follow it, but I would also add a packet of wine making yeast for every 5 or 6 gallons of must. You may also want to take a look at the article, Why Should I Use Wine Yeast that is listed on our website. This will give you a little deeper explanation about yeast and its role in wine making.
You may want to give up on using the wine recipe all together. While using a wine recipe that doesn't call for any yeast can be done. Why risk your time an effort when there are so many more modern wine recipe available.
Happy Wine Making,
Ed Kraus
—–
Ed Kraus is a 3rd generation home brewer/winemaker and has been an owner of E. C. Kraus since 1999. He has been helping individuals make better wine and beer for over 25 years.