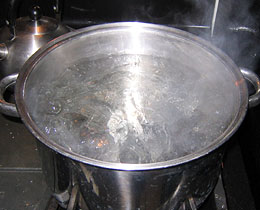 For many, brew day is all about taking it easy. Setting up a chair and kicking back as the wort boils away can be as therapeutic as laying on the beach, listening to the tide come in.
But for me, when I'm home brewing I like to strike a balance between relaxing and being efficient with my day, even if that means rushing around like a mad cheetah at times. That's where short boil brewing comes in…
One of the easiest ways I'm able to cut down on my brew day is focusing on the boil, especially since I brew extract batches. Instead of a normal 60-minute boil time, cutting down to 30 or even 20 minutes not only produces homebrew that's still great to drink, but puts a little more time back in my day.
While not every beer style lends itself to short boil brewing (bocks, for example), it is easy to shave off minutes for lots of other kinds of beers, from stouts to IPAs. The key is using extract and some specialty grains for steeping, which can be placed in the water as it heats up. Since malt extract doesn't need to be boiled for a specific amount of time, you're simply mixing it in the hot water to sanitize the liquid as you create your wort.
My favorite use of short boil brewing is with IPAs because it forces me to use my favorite technique for the style: hop bursting. This process is exactly what it sounds like – you add a ton of hops, but boil them for a short period of time. This provides an intense burst of hop flavor and aroma.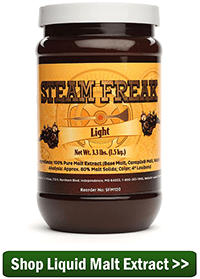 Hop bursting is perfect for short boil brewing because you'll extract little bitterness from the isomerization of hops, but get left with all the flavor. The biggest catch for a shortened boil is that you'll want to use a lot of hops to make sure you still get some hop bitterness to balance the sweet malt, but that can be a good thing, too.
Here's an IPA recipe I call "Little Hop Monster" that I've developed through short boil home brewing. Try it out to get you started on your next (shortened) brew day. Feel free to substitute hops for whatever you like, but I enjoy the intense tropical fruits of these American hop varieties:
Little Hop Monster IPA
(five-gallon batch, extract with specialty grains)
Specs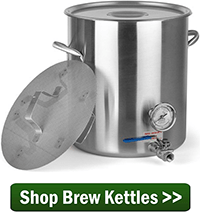 OG: 1.050
FG: 1.010
ABV: 5.2%
IBUs: 48
SRM: 8
Ingredients
0.5 lb. Crystal 60
0.5 lb. Crystal 40
6 lb. light DME
2 oz. Amarillo hops at 10 minutes left in the boil
2 oz. Simcoe at 10 minutes
1 oz. Amarillo at 5 minutes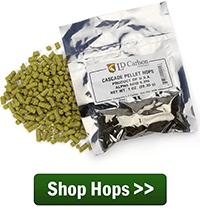 1 oz. Simcoe at 0 minutes
1 oz. Amarillo – dry hop
1 oz. Simcoe – dry hop
1 pack of Safale US-05 
Directions
In this short boil recipe the boil time can last from 20 to 30 minutes. Steep the grains as you bring the water up to boil, removing your grain bag once the water hits 170°F. to 175°F. Add the malt extract, bring the wort to a rolling boil, then add hops according to schedule above. Proceed with the rest of the brew as usual.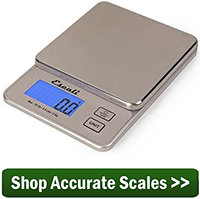 Short boil brewing may not be a home brewing method for everyone, but it certainly has its place. With having time saved as its reward it may be something you'll want to give a try.
—–
Bryan Roth is a beer nerd and homebrewer living in Durham, North Carolina. You can read his thoughts on beer and the beer industry on his award-winning blog, This Is Why I'm Drunk, and send him suggestions on how to get his wife to drink craft beer via Twitter at @bryandroth.