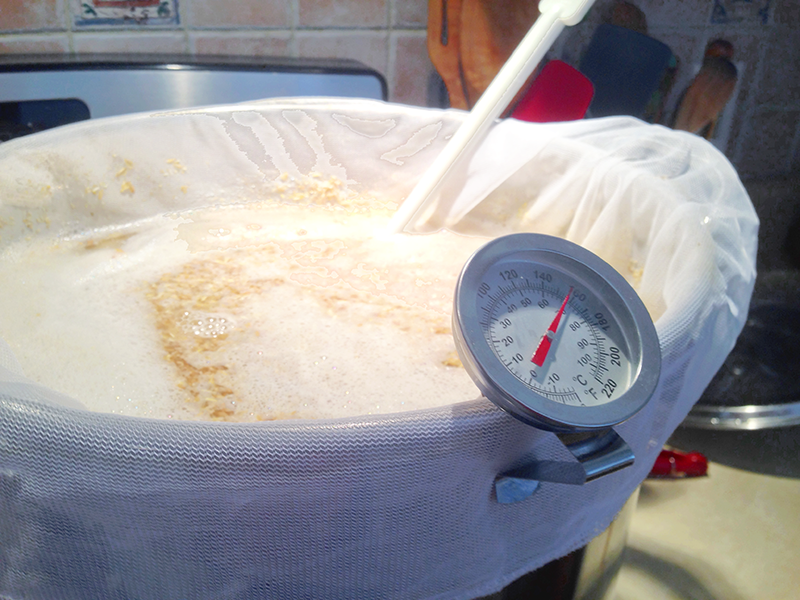 As the weather gets colder, it's time to ward off the winter chills with some high-gravity brews.
High-gravity simply means that there are more fermentable sugars in the wort prior to fermentation, leading to more alcohol after the fermentation. You literally get more bang for your buck with these high gravity beer recipe kits!
The extra alcohol creates a warming sensation that's pretty nice when it's cold out. More booze also means that these beers will age well, and you probably won't drink them as quickly. And, high-gravity homebrew also makes a great gift!
Many of these beers are called "Imperial" or "Double". The trick is having the bigger version still emulate the base style. But just because high gravity beer recipe kits are bigger doesn't mean they're harder to brew. Just like the normal gravity beer recipe kits, these are still extract and partial mash brews complete with easy-to-follow instructions.
**Remember, all orders at Adventures in Homebrewing over $50 come with free shipping, so you're already there with just one of these high gravity beer recipe kits! Plus, order two or more beer recipe kits (any combination, any brand) and save 10% on all of them! Your discount will be automatically applied when the second homebrew recipe kit is added to your shopping cart.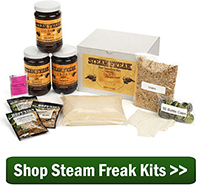 Double IPA: The top three most highly rated beers on BeerAdvocate.com are all Double IPAs. You can brew your own hop bomb with this adventurous kit from Brewer's Best! Six ounces of hops pull in 100+ IBUs! (ABV: 7.8% – 8.3%)
Belgian Dark Strong: This kit uses Dark Belgian Candi Sugar to create a rich, high-gravity brown ale with the characteristic Belgian flavor. Bitterness is moderate at 25-30 IBUs. (ABV: 7.3% – 8.3%)
Imperial Blonde Ale: This high gravity beer recipe kit is a beefed up version of the easy-drinking American craft beer style. Some wheat dried malt extract enhances body and mouthfeel, while a pound of honey malt contributes a nutty and sweet honey character. (ABV: 7% – 8%)
Imperial Pale Ale: It's a big pale ale, just a little more malt forward and balanced than the Double IPA above. The mix of specialty malts include Caramel 80, Victory, and Carapils, giving this brew a strong malty complexity to balance out the close to 70 IBUs. (ABV: 8% – 8.5%)
Russian Imperial Stout: Big and roasty, it's the ideal cold weather brew. Our customer review says it all: "This is a damn good beer." (ABV: 7.75% – 8.25%)
Von Baron Belgian Tripel: Over nine pounds of malt extract and dark belgian candi sugar make this a complex, malty brew fit for cold nights. Light amber in color, with just a hint of citrus flavor. (ABV: 6.75%- 7.25%)
Barnstormer Barleywine: Another malt-forward brew from Steam Freak with over 10 pounds of malt, this barleywine is perfect for special occasions. Be sure to age a bottle (or a few!) to see how the flavor develops! (ABV: 9.75% – 10.25%)
Bourbon Barrel Imperial Porter: This one's really making my mouth water. This high gravity beer recipe kit comes with American oak spirals and Kentucky Bourbon flavoring to replicate that barrel-aged flavor. Tip: Mix the bourbon flavor with real Kentucky Bourbon for an extra punch! (ABV: 7.5% – 8%)
San Diego Double IPA: This high gravity beer recipe kit from Steam Freak. It's an IPA with more hops and more malt – more everything! It's an extremely well balanced beer with a lot that's designed to shock the senses. (ABV: 7.75% – 7.75%)
Le Belge Trappist Tripel White: This brew has a golden color with a toasty malt finish. The alcohol is up there, so it's a sipper. The flavorful balance of specialty grains and hops hides the alcohol well. (ABV: 8.75% – 9.25%)
What's your favorite high gravity beer recipe kit? Tell us in the comments below!
—–
David Ackley is a beer writer, brewer, and self-described "craft beer crusader." He holds a General Certificate in Brewing from the Institute of Brewing and Distilling and is founder of the Local Beer Blog.