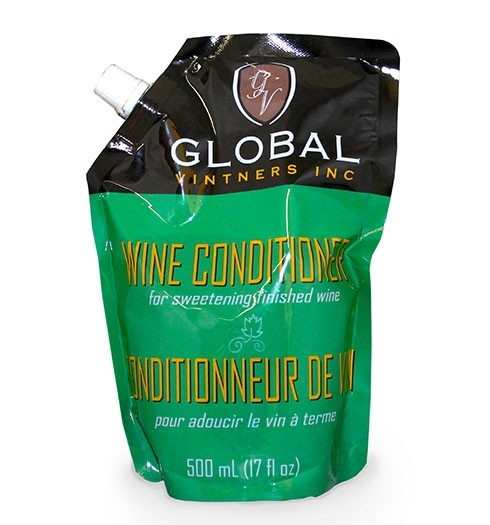 I like sweet tasting wine. I always add a pint of your wine conditioner before bottling to my wines. Is that all I need to add before bottling or do I need to still add the potassium sorbate?
Fred (Occidental, CA)
—–
Hello Fred,
Glad to hear that the Wine Conditioner is doing the job for you.  It provides a very simple way to sweeten your wine. Just pour it into the wine, to taste. You don't need to worry about your wine re-fermenting in the wine bottles, popping corks or anything like that.
To answer question about the Wine Conditioner and adding potassium sorbate, it's a matter of how much of the Wine Conditioner you use. If you're using a whole container of Wine Conditioner to a 5 or 6 gallon batch of wine, then no, you won't need to add any potassium sorbate. But, if you are only using some of the bottle, you need to pay a little attention.
Here's the specifics: as long as you use at least 1/3 of the container of Wine Conditioner in a 5 or 6 gallon batch of wine, you will be fine. There will be enough potassium sorbate in the wine to prevent it from fermenting the new sugars. But, if you use less than 1/3 of the bottle to the wine, you will need to add a dose of potassium sorbate along with the Wine Conditioner to prevent a re-fermentation from occurring.
"Use more than 1/3 bottle, no potassium sorbate.
Use less than 1/3 bottle, add potassium sorbate".
It should also be noted that you should always add sulfites to the wine before bottle, regardless if you use any Wine Conditioner or not. Sulfites are sold in three forms: Campden Tablets, sodium metabisulfite and potassium metabisulfite. Adding a single dose of any of these three at bottling time will help to keep your wines fresh and free form spoilage.
Fred, I hope this answers your question about using Wine Conditioner in your wines. Basically, if you are using the whole bottle to a 5 or 6 gallon batch of wine, then the only other thing that needs to be added is the sulfites.
Best Wishes,
Ed Kraus
—–
Ed Kraus is a 3rd generation home brewer/winemaker and has been an owner of E. C. Kraus since 1999. He has been helping individuals make better wine and beer for over 25 years.