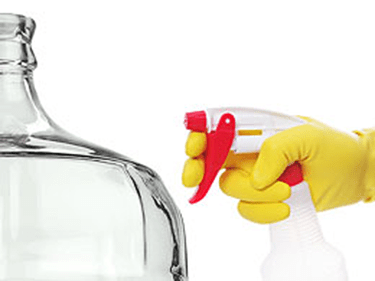 I have a wine instruction book that says to use ammonia for sanitizing wine making equipment. I have some beer instructions that say to use bleach. I understand that is dangerous to use both. But is there a reason for the difference, or can I just use ammonia, or just use bleach.
Name: Ken L.
State: California
—–
Hello Ken,
I got to be honest with you. I wouldn't use either one to sanitize wine making equipment.
There are so many excellent cleaners and sanitizers on the market today for the home winemaker to use – cleaners and sanitizers that are both safer and easier to use. It's come to a point that sanitizing wine making equipment with bleach or ammonia seem almost ridiculous.
I used to use bleach all the time to sanitize my wine making equipment back in the 80's. There were old wine making books on the subject out there that recommended doing so, but what I found is that bleach is a big hassle that requires contact time and lots and lots of rinsing.
Chlorine likes to cling to surfaces, so one rinsing is not usually enough. I have not ever used ammonia to sanitize bottles or equipment, but I can't imagine it to be much better.
Today, there are sanitizers that are very quick and easy to use. Some only require you get your equipment wet with it. Then allow it to air-dry. In fact, the air-drying is when all the sanitizing is actually being done with these sanitizers. It's an oxidative process that occurs as the solution evaporates. No rinsing required. They are much safer because they are oxidative, becoming completely innocuous with a little time.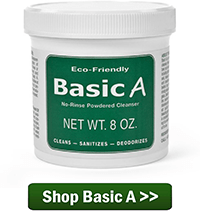 I would suggest using a product called Basic A No-Rinse Cleanser to sanitize all your fermenters and other wine making equipment. As the name suggest it is a no-rinse cleaner and the one I like the best for sanitizing my equipment.
For sanitizing wine bottles I use sodium metabisulfite instead of the Basic A No-Rinse Cleanser. This is essentially because evaporation can not happen efficiently within the confines of a wine bottle – something that Basic A needs to do to work.
Sodium metabisulfite approaches sterilization a little differently. You mix up the solution as directed on the container and put about two inches in the bottom of each wine bottle and allow them stand up-right for about 20 minutes. Unlike the Basic A, the fumes rising off the solution is what does the sterilizing in this case.
One of the beauties of using sodium metabisulfite is that the wine bottles do not need to be rinsed at all. They just need to be drained. Whatever remains in the bottles as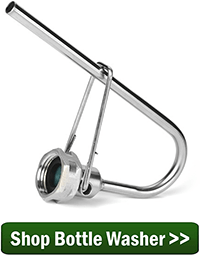 droplets or condensation is fine and will not hurt or affect the wine in any way. We have a great product for draining these wine bottles called a Bottle Tree.
Ken, if you still insist on sanitizing wine making equipment with bleach or ammonia, I would stick with the bleach. Use 1/4 cup to 1 gallon of water. Allow 20 minutes of contact time. Then rinse 3 times. The rinsing is the most important part.
Happy Winemaking,
Ed Kraus
—–
Ed Kraus is a 3rd generation home brewer/winemaker and has been an owner of E. C. Kraus since 1999. He has been helping individuals make better wine and beer for over 25 years.