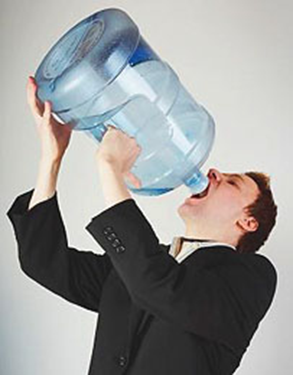 I have 5 gallons of wine that has just cleared up. Do I have to bottle it now or can I store it in the carboy? How long will the wine last in a carboy? Or will it spoil?
Name: Gary
State: GA
—–
Hello Gary,
Thanks for the great question on storing wine in a carboy. It brings up some interesting points, so I'm more than glad to answer it.
Carboys are great for long-term storage. They are easy to sanitize before using. They are also clear, so you can keep a good visual on the wine while aging. The shape of the carboy has it's advantages for bulk storing, too. More on that in a moment.
A carboy can keep and age a wine just as well as a wine bottle. Some even say that wine will age better in bulk, but I have not seen any solid evidence on this one way or the other on that matter. My guess is it depends some on the wine being bulk aged.
What I can tell you is that wine can last in a carboy just as long as in a wine bottle – years! In fact, you can think of a carboy as one big wine bottle. Looking at a carboy in this way will bring some things to light. Here are some best practices when bulk storing a wine in a carboy:
The wine must have completed its fermentation and had plenty of time to clear. It is best to verify this with a hydrometer before moving forward. You want the wine to a point to where it could be bottled if you wanted to. Storing a wine in a carboy before all the sediment has dropped out will only lead to a wine that is being aged on its sediment. This can lead to strange off-flavors.
The wine should be treated with sulfites directly after racking it into the carboy. This could either be a dose of Campden tablets, potassium metabisulfite or sodium metabisulfite. So in this respect storing wine in a carboy is no different than if you were bottling the wine in wine bottles.
There should be limited head-space in the carboy. Again, this is no different than when bottling a wine. This brings us back to the shape of the carboy. Because it has a small neck, you can keep the amount of head-space to a minimum by keeping the carboy full. You don't have to have the wine touching the brim or anything like that, but you do want the wine up into the neck.
When using a carboy for long-term storage you do not want to use an air-lock on it. Air-locks can dry out, among other issues. You will want to use either a tapered cork or a solid rubber stopper. The goal is to keep the carboy sealed-up tight… again, like a wine bottle aging.
This bring me to my last point: temperature fluctuation. Many don't realize it, but a corked bottle of wine slowly breaths air in-and-out over time. As the temperature of the wine bottle changes from day to night or even summer to winter, the wine expands a little and contracts a little. This small amount of expansion and contraction causes tiny amounts of air to be either sucked into the wine bottle or pushed out of the wine bottle. The amounts are so small as to be undetectable, but the effects add up over time.
Now, apply this principal to a 5 gallons bottle of wine. A change in temperature has a much bigger effect. The amount of air involved is no longer undetectable. A slight contraction or expansion multiplied by 25 times a wine bottle's volume can be noticed. It can also cause a problem by way of pushing your tapered cork or rubber stopper out of the opening, leaving your wine exposed to who knows what.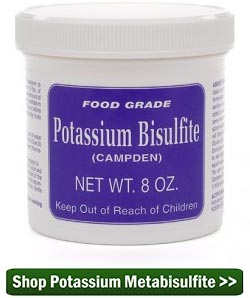 For this reason there are two things I recommend doing in addition to the above: 1) Keep the temperature as stable as possible while storing the wine in a carboy. 2) Wire down the tapered cork or rubber stopper. You can use a bailing wire of some sort. Tie it around the neck of the bottle then strap it across the top of the stopper with some needle-nosed pliers.
Gary, there is absolutely nothing wrong with bulk storing wine in a carboy. It is a great way to handle the long-term storage and aging of a wine. It also allows you to bottle the wine when you are ready to bottle the wine. Just keep it full and the temperature stable.
Happy Winemaking,
Ed Kraus
—–
Ed Kraus is a 3rd generation home brewer/winemaker and has been an owner of E. C. Kraus since 1999. He has been helping individuals make better wine and beer for over 25 years.