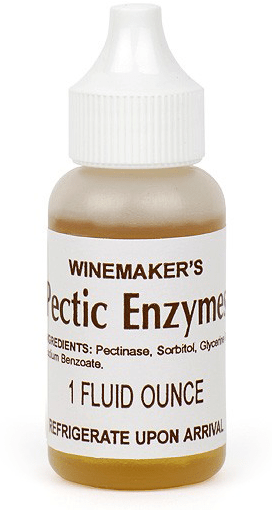 Can I add pectic enzyme after the fermentation to clarify the wine? Is there a substitute or alternative I should use instead at this time?
Name: Paul D.
State: Idaho
—–
Hello Paul,
Thanks for the great question. Some beginning winemakers get confused as to when to add pectic enzyme to their wines.
What Is Pectic Enzyme?
The first thing that needs to be understood is that pectic enzyme is not a fining agent or a wine clarifier for wine. It does not clear cloudy particles out of a wine after a fermentation like fining agents. Pectic enzyme is a protein that breaks down pectin in the fruit.
Pectin is the gelatinous material in fruit. It's the stuff that holds the fruit's fiber together. It is also the stuff that causes the resulting fruit juice to have the appearance of being cloudy. This is known as a pectin haze.
Once the fruit is crushed and pressed, not only does it release the juice, but it also releases the pectin. The pectin is a highly complex carbohydrate, refracting any light that hits it. This gives the fruit juice a cloudy appearance.
The pectic enzyme is a protein that is capable of breaking down the pectin cells into carbohydrates that are less complex – something that does not refract the light and give the juice a cloudy appearance. Essentially, the pectic enzyme causes a molecular change in the juice. It does not do anything to clear out a substances like a fining agent would; it changes the molecular structure of what's there so that light may travel more cleanly through it.
When To Add Pectic Enzyme To Your Wine?
As for winemaking, the optimum time to add pectic enzyme is right after crushing the fruit and before pressing. By breaking down the pectin cells at this stage, you are allowing more juice to release from the fruit's fiber – a good thing for making wine. If you are not the one doing the crushing and pressing, then the second best time to add pectic enzyme to your wine is at the beginning of the fermentation. This will allow the pectic enzyme to do its thing while the wine fermentation is occurring.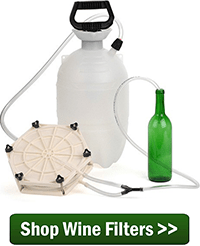 Three Things To Note Here:
Pectic enzyme comes in different strengths, so you are better off using the dosage recommended on the package it comes in instead of following the amount called for in your wine recipe.
During a wine fermentation the wine yeast does produce some pectic enzyme of its own. This is why it is possible to have a clear wine without adding pectic enzyme, but you are playing cloudy roulette with your homemade wine by not adding it. Adding pectic enzyme to your wine gives you added insurance that you are going to have a clear-looking wine.
If you do end up with a cloudy wine after the fermentation and you've already cleared out all the physical particles with a fining agent such as bentonite or isinglass, your options are few. Pectic enzyme is much more effective during a fermentation than after a fermentation. Your only hope is to add another full dose of pectic enzyme directly to the wine and give it time (sometimes months) to work on breaking down the pectin cells. If you did not add a dose of pectic enzyme at the beginning of fermentation, then you can add a double-dose, now. Pectic enzyme works much slower after a fermentation has completed.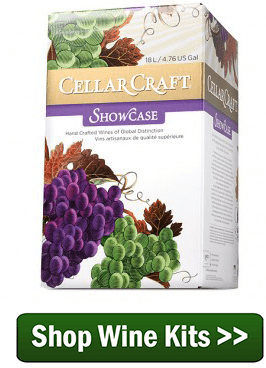 Unfortunately, there is no alternative or substitute for pectic enzyme. So if you think you need some, you'll have to get some. Do not use gelatin from the store. It will not disperse as evenly and readily as gelatin offered by wine supply shops.
I hope I've answered your questions and given you a more complete understanding of what pectic enzyme is and what it does for the home winemaker. Just remember it is at the beginning of fermentation that you when you'll want to add pectic enzyme to your wine. If that ship has sailed, you can add a double-dose of pectic enzyme after the fermentation.
If you'd like to read more you might want to take a look at Why Do Wine Recipes Call For Pectic Enzyme.
Happy Winemaking!