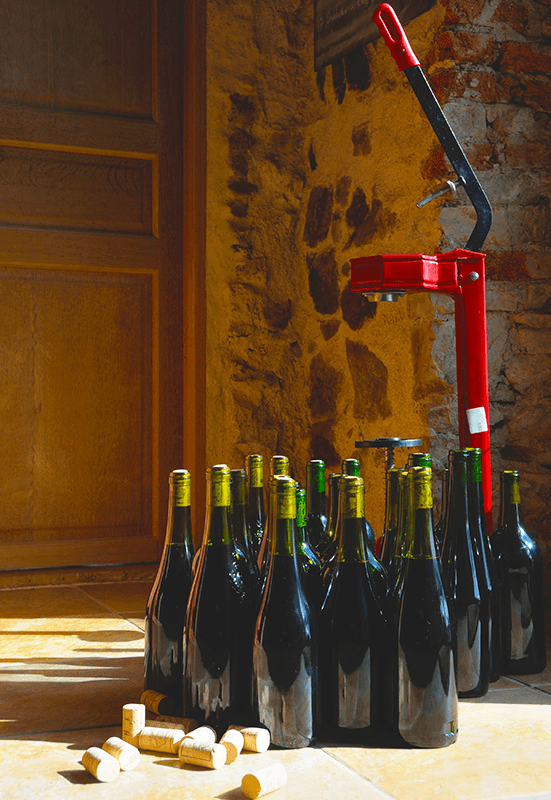 I made an apple cider and a apple/blueberry cider. Both are in the aging process  (4 months before bottling). I have the apple cider in a 5 gal. oak keg and the blueberry on in a 5 gal. carboy. Should I be adding sulfites before bottling the wine?
Name: Mike in NY
State: NY
—–
Hello Mike,
If you are aging your wine in bulk, such as a carboy or oak wine barrel, we recommend treating the wine with potassium metabisulfite before the aging. So hopefully you've already treated it with some form of sulfite. This is to keep oxidation and spoilage down while in the bulk aging vessel.
Regardless if you have or not, we also recommend adding sulfites before bottling. This dose is to keep the oxidation and spoilage down while the wine is in the wine bottle. Sulfites want to leave as SO2 gas over time and during rackings, so it does need to be replenished at various stages. Here is more information about when to add sulfites to a wine.
Also at bottling time, you may also want to add potassium sorbate. This will also help to stop any type of organism from multiplying and spoiling your cider. Potassium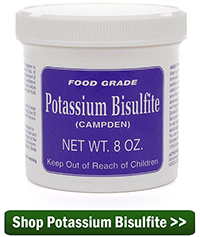 sorbate is mandatory if you plan or sweetening back your cider before bottling, or there are still sugars in the wine leftover from the fermentation. Not adding it in these situations could result in a re-fermentation in the wine bottle. This would lead to either popping wine corks, or worse yet, exploding wine bottles.
Since your are making apple wine/cider I will also mention this: we also recommend adding ascorbic acid to help battle the oxidation issue when using apple juice. Apple juice/wine likes to turn brown very easy. Ascorbic acid will help to slow down the process and keep your cider looking pretty. The optimal time to add this is right before fermentation, but right now is better than never.
If you'd like to read a little more on this subject, you may want to take a look at Adding Campden Tablets To Homemade Wine. This is another post on this blog.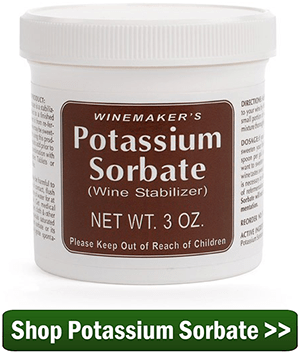 Adding sulfites before bottling is arguably the most import addition. It is the last time you will be able to do anything directly to the wine to keep it, so don't skip it.
Happy Winemaking,
Ed Kraus
—–
Ed Kraus is a 3rd generation home brewer/winemaker and has been an owner of E. C. Kraus since 1999. He has been helping individuals make better wine and beer for over 25 years.