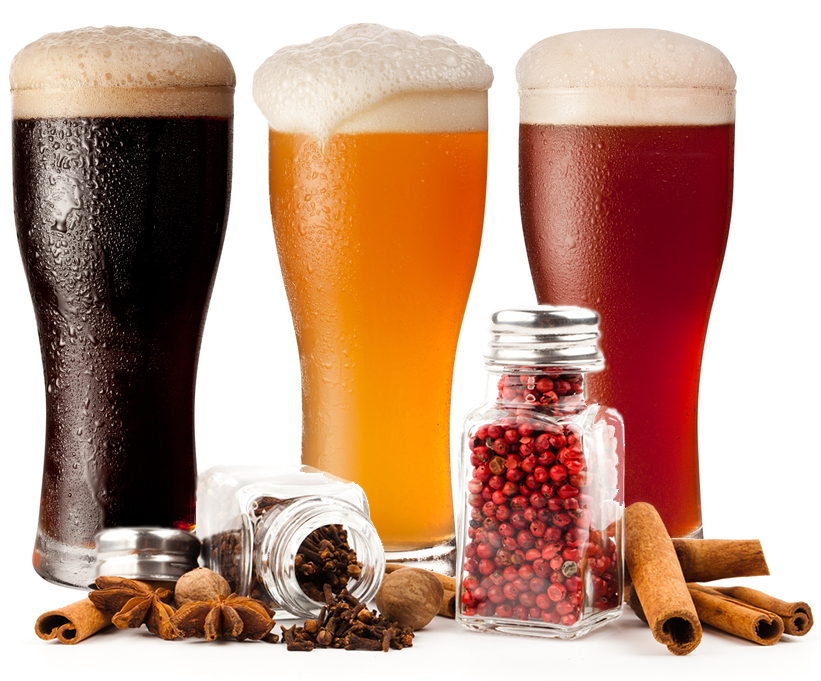 About a month ago we outlined ten spices to try in your homebrew, but when it comes to using spices in beer, the world is quite broad and diverse. If you're looking to exercise some creativity, here are ten more spices that you can use to give your homebrew a little something special.
Cardamom – This spice is popular in Indian cuisine. Its flavor is reminiscent of chocolate with a hint of citrus, so it could make an interesting addition to a porter, stout, or chocolate stout. Homebrew author, Randy Mosher, recommends adding the crushed pods to a raspberry beer.
Coffee – Though used more often as a beverage than a spice, coffee makes a great addition to dark beers (and dry rubs for that matter). If you like coffee, a coffee stout may be in order. Choose a fresh, high-quality coffee (one you would enjoy drinking) and add the beans directly to the fermenter. For optimal coffee flavor, you can also do a cold brew, as coffee that has been heated may be too astringent.
Grains of Paradise – Said to be the secret ingredient in Hoegaarden witbier, grains of paradise are native to West Africa and similar in flavor to cardamom, but more peppery and resinous. Though grains of paradise are most often found in witbier, you might also find them in Belgian ales or Faro.
Juniper Berries – Most well known for flavoring gin, juniper can also be used in brewing beer. Juniper is commonly found in traditional Nordic beers such as Sahti and Gotlandsdrika. Use 1-2 tablespoons of fresh berries late in the boil. Sometimes juniper branches are used in place of, or together with, the berries.
Licorice – When using spices in beer you can't forget licorice. It has traditionally been used in brewing for its sweet, pungent flavor and head retention properties. A licorice extract may also be used to contribute color to darker beers. Add about 1/4 oz. of dried root at the beginning of the boil for dark beers like porters, stouts, and Belgian dark ales.
Nutmeg – A complex and intense spice, nutmeg is most often used in combination with other spices like cinnamon and coriander in holiday spiced ales or pumpkin beer.
Saffron – For a truly special beer, try one of the world's most expensive spices: saffron. Dogfish Head uses saffron in their famous Midas Touch. Used in gourmet cooking, saffron comes from the dried stigmas of the flower Crocus sativus. According to herbalist author, Stephen Buhner, it takes 4,320 flowers to produce one ounce of the spice!
Salt – Though not technically a spice, salt lives in your kitchen among several of the other ingredients on this list. Various brewing salts can be used to adjust your brewing water, but other cooking salts like Kosher salt or sea salt (do not use iodized), can be used specifically for flavoring. Salt is most notoriously used in brewing German Gose, a pale, slightly sour beer brewed with wheat, coriander, and salt.
Spruce – Spruce can give an interesting, piney touch to amber ales and holiday beers. Try using spruce essence or even the branches themselves. For a beer that features the spruce flavor, check out this spruce beer recipe.
Star Anise/Anise – Don't forget either of these with using spices in beer. Both of these spices contribute a flavor reminiscent of licorice, though star anise tends to be less intense. Use it as you would licorice, in darker beers like porters and stouts.
As I mentioned the previous post about using spices in beer, less is more. I find that subtlety is often the key in brewing with spices. Often times a 1/4 ounce is plenty of spice for your homebrew. You can also add more for your next batch.
—–
David Ackley is a beer writer, brewer, and self-described "craft beer crusader." He holds a General Certificate in Brewing from the Institute of Brewing and Distilling and is founder and editor of the Local Beer Blog.