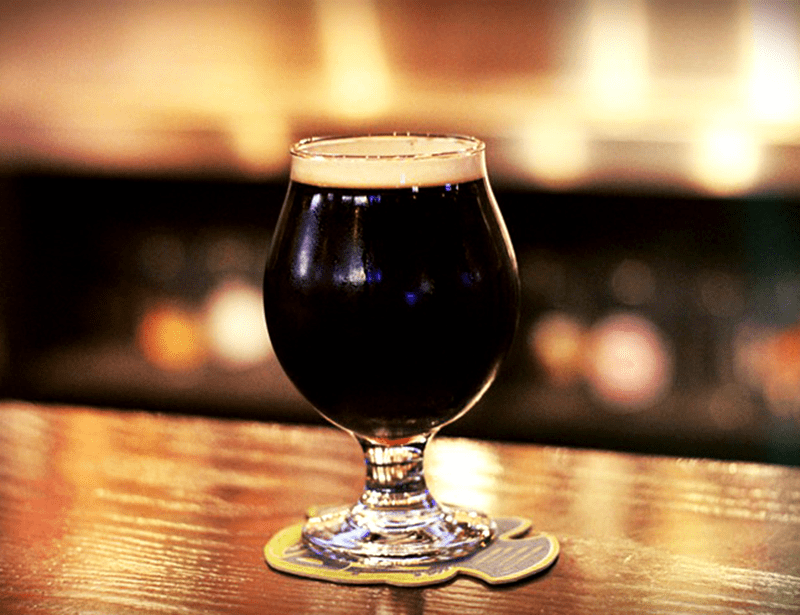 I was drinking one of my favorite beers last night and felt compelled to share a clone beer recipe for it. It was the Dubhe Imperial Black IPA from Uinta Brewing Co. of Salt Lake City, Utah. Uinta is one of may favorite American breweries and they make some fantastic beers. If you haven't tried any of them yet, I highly encourage you to take a tour of their beer selection.
Their Uinta Dubhe Imperial Black IPA is a BIG beer: pitch black, 9.2% ABV, 109 IBUs. As dark as it is, it's surprisingly not very heavy on the roasted flavors. Hops are a major factor, with huge spicy and citrus characteristics throwing themselves across the palate. There's some light toasty and nutty character, which could come from the use of toasted hemp seeds. At 9.2% alcohol by volume, this beer is definitely a sipper.
Scouring the internet for tips and advice, I came across the Jamil Show on the Brewing Network. Jamil Zainasheff is something of a rockstar in the homebrewing world. He's the author of two books about brewing, he writes the style guide section of Brew Your Own magazine, and has brewed dozens (maybe even hundreds) of award-winning homebrew beer recipes.
In one episode of the show, they interview a brewer from Uinta Brewing Co. to get the details on Dubhe. Here are some key points from the episode for brewing an all-grain version:
Uinta Dubhe uses a single step infusion mash at 152˚F. (To make enough beer for their 120-barrel batch, they have to mash twice and boil three times – a 22-hour brew day!)
The brewer recommends using calcium sulfate (a.k.a. gypsum) for water hardness (can help accentuate the hop character).
The brewer goes into a lot of detail about grain and hop ratios. I've scaled them down for a 5.5-gallon batch in the clone beer recipe below.
The brewer recommends using yeast nutrient since this is such a high gravity beer (normally added in the last 15 minutes of the boil).
Ferment at 68˚F.
Dry hop with Falconer's Flight hops for about three weeks.
Uinta Dubhe uses a proprietary yeast strain, but the brewer recommends California ale yeast or German ale yeast.
Though the brewer admitted that a craft beer this big is "not a very efficient use of raw ingredients," I highly recommend giving it a shot – especially if you love hops!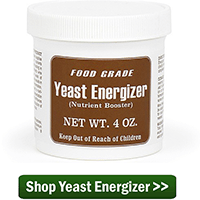 Here are some additional tips for brewing this Uinta Dubhe Imperial Black IPA clone:
The clone beer recipe below assumes a 75% mash efficiency. It can be difficult to get a good efficiency with such a high gravity beer, so you may want to increase the grain bill by 10% or so to make sure you hit your numbers.
Assume a fair amount of volume will be lost in the trub, both at the end of the boil and after fermentation.
Also, boil-off volume should be adjusted to accommodate the longer, two-hour boil.
Hemp seeds can be found at a specialty grocery or health food store. I'd suggest toasting them in a dry skillet for several minutes to increase the toasty flavor and reduce the likelihood of them getting too soggy and clogging the mash.
This is a great beer for drinking year-round, but it's also a strong beer, so it should age well. Don't feel like you need to drink it all at once!
Ready to give it a shot? Check out the clone beer recipe below!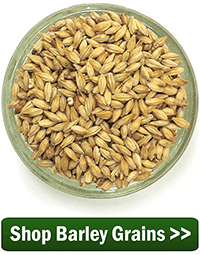 Black as Night DIPA (Uinta Dubhe Imperial Black IPA Clone) 
(all-grain recipe, 5.5 gallon batch)
Specs 
OG: 1.093
FG: 1.023
ABV: 9.2%
IBUs: 120+
SRM: 40+
Ingredients 
16.2 lbs. Pale 2-Row malt
2 lbs. Munich 10L malt
2 lb. Crystal 60L malt
1 lbs. Chocolate malt
.25 lb. Roasted barley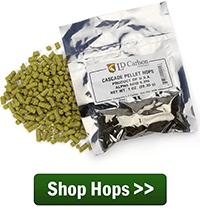 .25 lb Carafa III
.25 lb. toasted hemp seeds added to last 15 mins. of mash (use a grain bag)
1.5 oz. Chinook hops at :60 left in boil
2.5 oz. Columbus hops at :30 left in boil
2 tsp. Yeast nutrient at :15 left in boil
1.4 oz. Bravo hops at :5 left in boil
1.4 oz. Columbus hops at :5 left in boil
1.4 oz. Bravo hops during 60-minute whirlpool
3 oz Falconer's Flight hops dry-hopped for 21 days
3 packets Wyeast 1056: American Ale Yeast or Wyeast 1007: German Ale Yeast (into a 2L yeast starter)
Directions: Mash crushed grains at 152˚F for 60 minutes. Add toasted hemp seeds during last 15 minutes of mash. Sparge to collect a total of roughly 9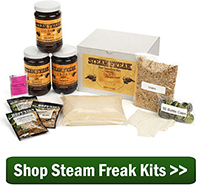 gallons of wort in the brew kettle. Boil for 120 minutes. Add hops according to schedule above. Whirlpool for one hour. Chill wort to 65-70˚F and oxygenate. Ferment at 68˚F. Add dry hops to secondary fermenter and allow for 3 weeks in secondary. Cold crash prior to kegging or bottling to help dry hops settle out.
Have you brewed a Black IPA before? What tips do you have about brewing a Black IPA? Share in the comments below!
—–
David Ackley is a beer writer, brewer, and self-described "craft beer crusader." He holds a General Certificate in Brewing from the Institute of Brewing and Distilling and is founder and editor of the Local Beer Blog.