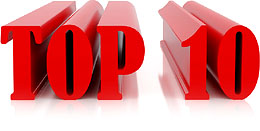 Your votes have been counted, and the results have been tallied. Below are the 10 most popular winemaking blog posts of 2013 from the E. C. Kraus blog. The results are based on a combination of: visits, social sharing and comments from you the reader.
So without any further delay, I give to you The Top 10 Wine Making Blog Posts of 2013!
———————————————————————————————————
Ed Kraus is a 3rd generation home brewer/winemaker and has been an owner of E. C. Kraus since 1999. He has been helping individuals make better wine and beer for over 25 years.