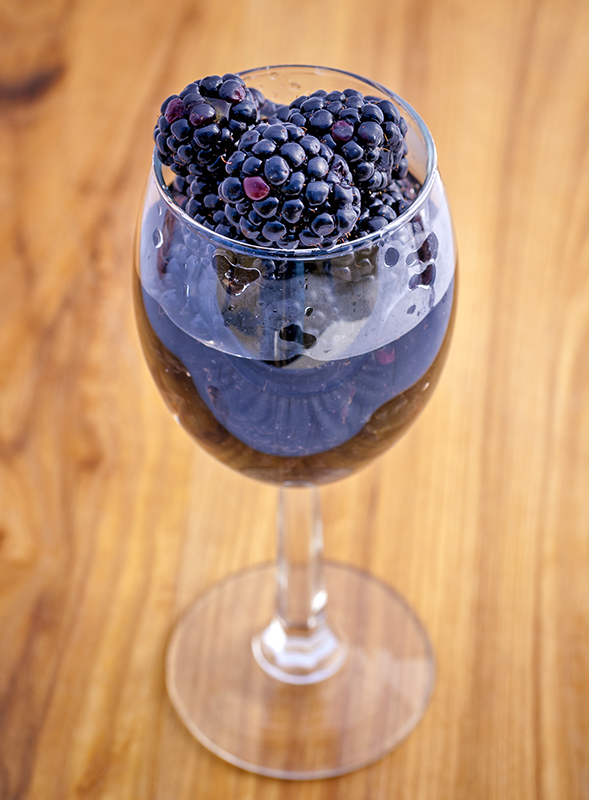 I recently entered a homemade blackberry wine into a judging contest. I did ok but two judges said my wine needed more fruit flavor. I used the wine recipe from Kraus. Do I need to add more fruit at the beginning of the fermentation? How do I get more fruit flavor in my wine? I usually make 5 gallons at a time.
Name: Thomas S.
State: Tennessee
—–
Hello Thomas,
Thanks for the great question! Flavor is a subjective topic. One person's perception of a wine can be completely different from another's. In fact, two of the tips I'm going to give you to make fruit wine with more fruit flavor (number 2 and 3) are based on perception and not reality:
Tip #1: Use more fruit – just as you suggested. This will also require you to add less acid blend than called for in the wine recipe. The reason for this is that more fruit acid is being provided by the fruit. An acid test kit may be the best way for you to tell how much acid blend is needed. The additional fruit will also provide more sugar to the wine must. You will want to use a hydrometer to know how much to add. This brings us to the next tip for getting more fruit flavor in your wine.
Tip #2: Make your wines with less alcohol. Lower alcohol wines tend to have more fruit flavor. High-alcohol wines numb the tongue, making flavor sensations tougher to experience. This wine can take on a watered-down characteristic. Instead of making your wines at 13%, 14%, or higher, try making them around 10% or 11%. Controlling your wine's alcohol level is easily done by adding less sugar to the wine must. Again, a hydrometer is your friend in this situation. Add sugar to the wine must until the hydrometer gives you a potential alcohol reading in the 10% to 11% range.
Tip #3: Back-sweeten the wine at bottling time. Don't make your wine bone dry. When you pop a blackberry into your mouth, a lot of what makes a blackberry taste like a blackberry is its sweetness. The fermentation takes all that sweetness away by fermenting the sugars into alcohol. Sweetening the wine back just a little bit can give the perception of the wine having more fruit flavor. You don't necessarily have to make the wine sweet. Use just enough sugar to take the bone-dry edge off the wine can make quite a difference. It is important that you stabilize the wine by adding potassium sorbate when sweetening. This will help to eliminate any chance of a re-fermentation in the bottle.
There are a couple of caveats that need to be brought up.
Adding more fruit to increase the wines fruit flavor means that it will need more time to age. Bigger, bolder wines are harsher when they are first fermented. Aging plays a more important role in mellowing the harshness of these big wines.
There is a limit to how much you can increase the fruit in a wine recipe. The limit is based on the acidity or tartness of the particular fruit being used. You do not want to add so much fruit that the wine ends up being too tart even without adding any acid blend, at all.
So Thomas, there you have it… three simple things you can do to get more fruit flavor into your homemade fruit wines. You can try just one of them, or you can try all three at the same time, on the same wine.
Happy Winemaking,
Ed Kraus
—–
Ed Kraus is a 3rd generation home brewer/winemaker and has been an owner of E. C. Kraus since 1999. He has been helping individuals make better wine and beer for over 25 years.