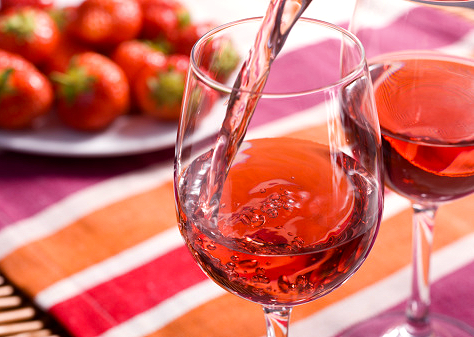 If you could take springtime and put it into a bottle you would most likely end up with something close to a strawberry wine. For me, strawberry wine is the very essence of spring. Its flavor is bright and fresh. Its aroma is floral and sweet. As far as I'm concerned strawberry wine represents all things spring quite well.
If fresh strawberries are not already available in your area, they will be soon. With that in mind here is a strawberry wine recipe that you can use to get your springtime groove on. It's a wine recipe I have used several times with great results. I couldn't think of a better time to share it than right now!
Strawberry Wine Recipe
(5 Gallons)
19 lbs. Strawberries
10 lbs. Cane Sugar (1.090)
4 Tsp. Acid Blend 
5 Tsp. Yeast Nutrient
1/2 Tsp. Wine Tannin
Pectic Enzyme (as directed on package)
1/4 Tsp. Potassium Metabisulfite (or 5 Campden Tablets)
Wine Yeast (recommend Lalvin 71B-1122)
10 Campden Tablets (5 before fermentation, 5 before bottling)
You can use the basic wine making directions that are on our website for making this strawberry wine recipe. Just be sure to remove any stem or green parts of the strawberry before using. You do not need to crush the strawberries. Just give them a coarse chopping. The strawberries will breakdown and release all their goodness during the fermentation.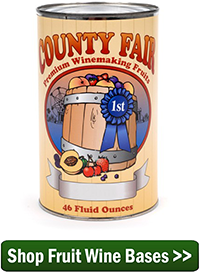 One variation I have done a couple of time when making this is to exchange 2 pounds of the sugar for 3 pounds of raspberry spun honey. This exchange will keep your starting specific gravity about the same. The raspberry honey will intensify the sweet, perfume-y bouquet this wine likes to give. Essentially, it's giving you more of one of the features that makes strawberry wine so great.
Another great thing about making this strawberry wine recipe is that it does not need much aging. So many wines are consumed before they reach their best simply because they need so much aging. Fortunately, that's not the case with making strawberry wine.
I would not attempt to bulk-age the wine for any length of time, at all. Give it plenty of time to clear, but after that go straight into the wine bottles. Once in the bottles, give your strawberry wine at least one month to develop its bouquet. It will taste its best at around 4 to 6 months. Don't let it sit around for any more than 1 year. Drink up!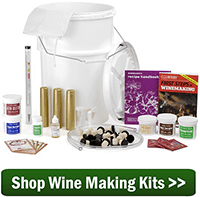 Do you have a strawberry wine recipe you'd like to share with other home winemakers? Just leave it in the comments below. We'd love to see what you've got cookin'!
Happy Wine Making,
Ed Kraus
—–
Ed Kraus is a 3rd generation home brewer/winemaker and has been an owner of E. C. Kraus since 1999. He has been helping individuals make better wine and beer for over 25 years.