Here's a question we get quite often from beginning wine makers who are just starting to learn how to make their own wine. "What's the difference between grape juice for drinking, like you buy at the store, and grape juice for wine making like you sell?"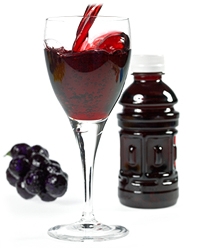 The main difference is in the grapes that are being used to make the juice. When it comes to making wine from grapes, I can't stress enough that the number one factor is the grape itself. Not only the type of grape but also the quality of grape plays a huge role in how your wine will turn out.
Welch's, as an example, uses Concord grapes, mostly grown in the Finger Lakes region in New York state. If you want to make a Concord wine, then using Welch's will work fine. You can also get a White Niagara and a red blend as well, but that's about all you'll find at the grocery store.
We offer a Concord, a White Niagara and many, many various red blends. But beyond this we offer specific varietal grapes from regions all around the world. For example, we have a Sauvignon Blanc grape juice from New Zealand, and a Merlot grape juice from France.
Each has it's own unique flavor, bouquet and overall character that permeates into the resulting wine. These are grapes that were bred and cultivated for the purpose of making wine.
We have an extensive list of wine ingredient kits on our website that feature several dozens of different wine grape varieties and grape blends. To learn more about what kind of grape juice you might like you might want to take a look at our Wine Selector Tool.
———————————————————————————————————
Ed Kraus is a 3rd generation home brewer/winemaker and has been an owner of E. C. Kraus since 1999. He has been helping individuals make better wine and beer for over 25 years.