One of the things that has really made home wine making so popular over the last few years is the availability of more and better wine making products. The average home wine maker today has a whole host of products that make life a lot easier and the resulting wine much better.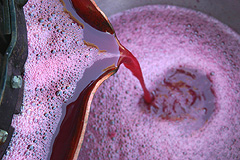 It wasn't all that long ago that I remember having to build or concoct certain items myself because nobody sold them or they hadn't been invented yet. There's even a book that came out in the 70's call, Woodwork For Winemakers that shows how to build homemade wine equipment. I still have a wine bottle drainer made from plywood and pieces of dowel-rod that this book showed me how to build.
But now things are very different. Just about everything a winery would have, an individual can have, only on a much smaller scale: grape presses, grape destemmers, wine filters, transfer pumps. You can even get what's called a Bottle Tree for draining wine bottles that easily takes the place of the wooden contraption I built way back when.
Ingredients have come a long, long way as well, particularly grape juices and grape juice concentrates. In the 60's and 70's there was only one brand of wine making concentrate available called Indian Valley which sold fruit and grape concentrate grown in Oregon. Now we carry 12 different brands of wine making juices featuring grapes from all over the world–from well known grape growing regions.
Looking into the future who knows what kind of products will spring-up. The only thing I know for sure is that we will continue to search to find them and make them available to the home wine making market.
———————————————————————————————————
Ed Kraus is a 3rd generation home brewer/winemaker and has been an owner of E. C. Kraus since 1999. He has been helping individuals make better wine and beer for over 25 years.