If you want to know how to make your own wine the easy way, here's a little secret. Start by selecting one of our beginner wine kits. Each kit contains all the essential winemaking materials and ingredients that you will need to start making your own homemade wines.
We have three different homemade wine kits to choose from depending on what you want to use to make your wine, whether it be your own fruit, concentrated grape juice, or a wine ingredient kit.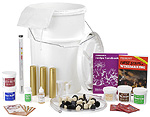 Your Fruit! Necessities Box: This homemade wine kit is designed specifically for individuals who want to make wine using their own fruit. It has all the wine making materials and ingredients you will need including instructions. This kit is ideal for making country-style wines from strawberries, blackberries, apple juice and many, many other fruits. It also comes with over 160 different wine recipes including a complete copy of the book, First Steps In Winemaking.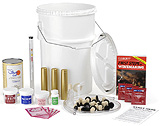 Sun Cal Necessities Box: This wine making kit was created for someone who wants to make wine using one of our Sun Cal concentrated grape juices. It has everything you will need including your choice of Sun Cal concentrate and complete directions. Using concentrated grape juice keeps the wine making process simple and quick. And you don't have to wait for the fruits to come in season. You can make wine all throughout the year.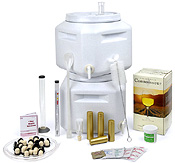 California Connoisseur Necessities Box: Last but certainly not least. This homemade wine kit allows you to make wine with your choice of California Connoisseur ingredient kit. It has all the materials you will need. It also includes instructions that are specific to the wine making ingredients in the ingredient kit. The directions take you by the hand and guide you through each step.
So what are you waiting for? Choose the kit that's right for you and get started, today!
———————————————————————————————————
Ed Kraus is a 3rd generation home brewer/winemaker and has been an owner of E. C. Kraus since 1999. He has been helping individuals make better wine and beer for over 25 years.