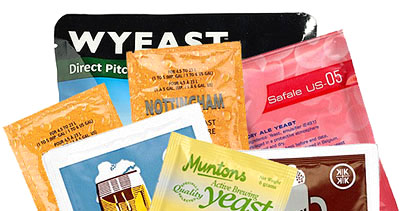 Guest blogger Billy Broas delivers sound advice for selecting the right yeast strain for your homebrew:
—–
Beer yeast is an underappreciated ingredient in homebrewing. Sure, we know that we must take the right steps to keep it happy: make a yeast starter, control the temperature, aerate, etc. But yeast's flavor impact on the final product is often overlooked. Sometimes we forget that selecting beer yeast that is appropriate is just as important as nurturing the beer yeast we select.
If you're trying to brew a beer strictly to style, then it's best to choose a traditional beer yeast strain. In general, go with an American yeast strain for American styles, an English strain for English styles, etc.
Sometimes when selecting beer yeast you choose a traditional strain, but aren't happy with the results. You might be tempted to switch to a different beer yeast, but don't forget about all of the different variables that affect yeast character. The beer yeast you select may actually be perfect, but you pitched it a little too warm.
Pitching temperatures, fermentation temperatures, time, and even fermenter shape all impact the flavor you get from a beer yeast when homebrewing. Try tweaking these variables before jumping strain to strain. I was never a big fan of Wyeast 3068 (the Weihenstephan strain), but once I figured out the correct fermentation temperature it became my favorite strain for German ales.
Of course you don't always need to go by beer style guidelines. Much of the fun in homebrewing is experimenting. You could try a German Ale yeast in an American Pale Ale or a Bohemian Lager yeast in an Irish Stout. If you factor in the variables mentioned above like temperature and aeration, the potential new flavor profiles become endless.
In addition to flavor and aroma, the beer yeast you select will have a big impact on the mouthfeel of the beer. Have you ever made a beer that tasted too thin? Maybe it finished at a very low gravity and dried out too much. A common corrective action is to use more grain to make a "bigger" beer. Or maybe you add some CaraPils to provide more dextrins.
Perhaps the best solution though is selecting beer yeast with lower attenuation – one that doesn't ferment that last bit of carbohydrates out of the beer. You can keep the rest of the beer recipe the same and because the new strain won't ferment as many sugars, the final gravity will be higher, resulting in a fuller-tasting beer.
For example, I love using WLP007 Dry English Ale yeast for my English Pale Ales and IPAs, but my English Mild is too low in gravity for that yeast. It's a 1.035 original gravity beer, so the WLP007 would make it very thin tasting. To give it more body I use a less attenuation English Ale yeast, such as WLP002.
Selecting beer yeast is not a thoughtless task. Choose your beer yeast wisely when homebrewing, and most importantly, take notes on your batches. With time you'll find the best beer yeast strain for all of your favorite beer recipes!
—–
Billy Broas is a BJCP beer judge and the homebrewing expert on the Rocky Mountain PBS television show "Colorado Brews." He teaches an online homebrewing class at The Homebrew Academy and runs a blog about craft beer at BillyBrew.com.