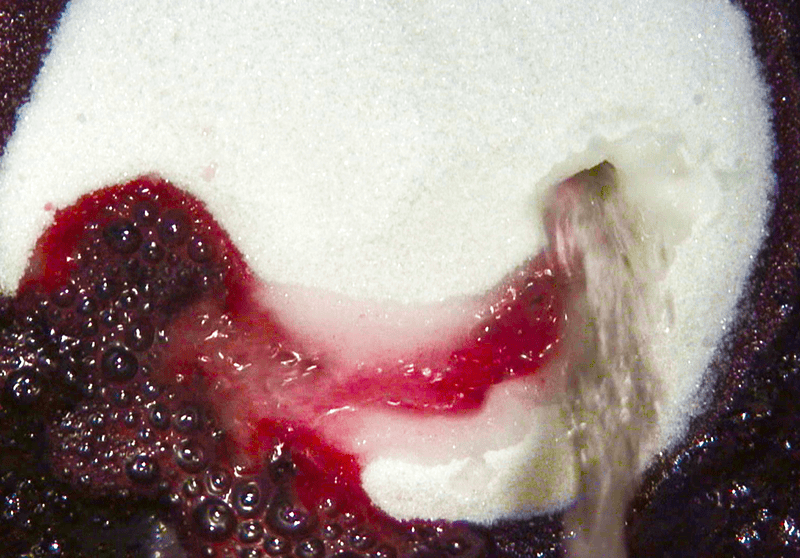 To keep a long story short, while mixing ingredients for the first fermentation, instead of 2 pounds of sugar called for in the wine recipe, 4 pounds made it into the bucket. I let it go for the first fermentation. The hydrometer reading is 1.106. Could I add water to lower sugar concentration for the fermentation?
Thank you.
Name: Jan R
State: Ohio
—–
Hello Jan,
Adding an additional 2 pounds of sugar to the wine must is not as serious as you might think. Assuming this is a 5 gallon batch, the extra sugar will raise the final alcohol level by about 2%, so while you may have put too much sugar in the wine, it is far from being a disaster.
The general rule-of-thumb is for every pound of sugar you add to a 5 gallon
batch of wine, you increase the potential alcohol by 1%.
Based on your beginning Specific Gravity reading of 1.106 you took with your hydrometer, you have a beginning potential alcohol right at 14%. That means you have enough sugar in the wine must for the yeast to ferment 14% worth of alcohol content. If you can live with this, then doing nothing is your best course of action. Just finish the fermentation as you normally would.
If you would like, you can dilute the wine with water, but this will bring up another problem and that is the wine's acidity or its tartness. Diluting the flavor profile of a wine with water is one thing. You can get away with reducing the intensity of the flavor without having too much noticeable overall affect on the wine. But you are diluting the acidity at the same time. Acidity is something that is very noticeable when it's diluted. Because of this, an adjustment would need to compensate for the lowering of the acid level. This can be done by adding Acid Blend to the wine must.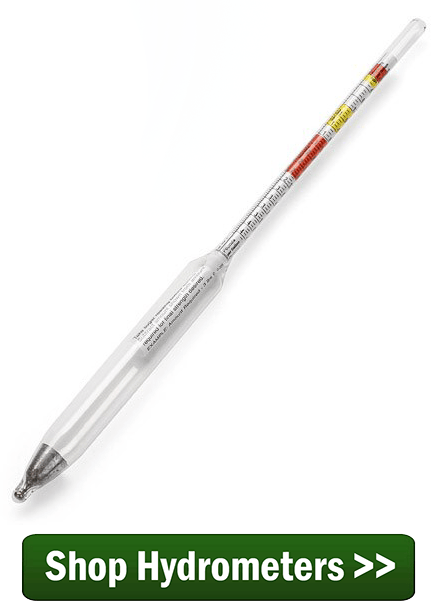 Now the question is: how much water and Acid Blend should you add? Again, I am going to assume this is a 5 gallon batch of wine.
You can use something called a Pearson's square to calculate how much water to add to bring the potential alcohol down to its intended level, but I'll do that for you, now. You need to add .83 gallons of water to the entire batch to bring the potential alcohol down from 14%  to 12%. This works out to 3 quarts and 8.5 fluid ounces of water.
Now, you need to figure out how much Acid Blend needs to be added to compensate for the addition of .83 gallons of water. This leads me to my second rule-of-thumb:
For every teaspoon of Acid Blend you add to a gallon of liquid,
you will raise the total acidity by .15%.
With a target range of around .65% to .75% TA, this means you would want to add between 4.33 and 5 teaspoons of Acid Blend per gallon of water. You would be adding .83 gallons — not a whole gallon — so this would adjust the range of Acid Blend needed for the batch to somewhere between 3.6 and 4.1 teaspoons. You could also use an our Acid Test Kit to take an acid reading after the water has been added and adjust according.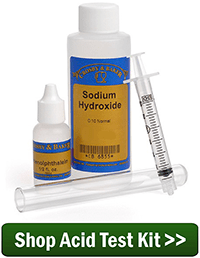 You can add both the water and Acid Blend anytime you like during the winemaking process. The effects of both are immediate on the wine. The only thing you need to know is that if you add the water after the fermentation has completed, it needs to be distilled water. Using tap or bottled drinking water at this time would be introducing free oxygen into the wine and promote oxidation. Distilled water has no free oxygen.
As I'm sure you can start to see, there is a lot to be said for just leaving the wine alone and let is go as is, but if you feel that 14% alcohol is something you can't live with, there are options. As I mentioned before, while you did put too much sugar in the wine must, the total effect on the resulting will not be disastrous or out ruinous. Either way I'm sure you wine will come out just fine.
Accidentally putting too much sugar in a wine must is something that happens from time to time. I know I've added to much sugar to my wine before, and I know lots of others have. Just realize that regardless of how bad the situation, there is usually a solution to remedy the problem.
Happy Winemaking,
Ed Kraus
—–
Ed Kraus is a 3rd generation home brewer/winemaker and has been an owner of E. C. Kraus since 1999. He has been helping individuals make better wine and beer for over 25 years.