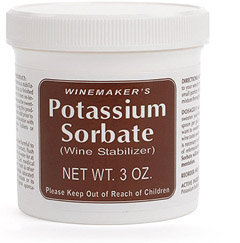 Thanks again for being there.  You're greatly helping an amateur wine-maker get by the label "amateur".
Three part question, all using potassium sorbate when wine making.  This is a question recognizing that potassium sorbate does not stop fermentation, but is used to keep wines from starting to ferment again after the fermentation has been completed.
1).  When should the potassium sorbate be added to the wine — is it sufficient to add to the wine at day of bottling or should it be added earlier (like 7 to 10 days before bottling)?
2).  Will the answer to part 1) change if the wine has a sweetener added?  Is the potassium sorbate ALWAYS added to the wine AFTER the sweetener, or does it not matter as to the sequence?
3).  Does using a wine filter at time of bottling impact any of the above? Or is the filter process just the filter process?
Thanks, Steve S.
—–
Dear Steve,
Thanks for the great questions about using potassium sorbate when wine making. Let me see if I can put a dent in this subject.
First, A Little Background On Potassium Sorbate And Wine:
Potassium sorbate is one of those wine making ingredients that often gets used incorrectly or confused with other ingredients such as sodium metabisulfite.  I'd like to go over exactly what potassium sorbate will do for your wine and maybe that will clear up how it should be used.
Potassium sorbate does not destroy wine yeast. Let me repeat this for more emphasis:
"Potassium Sorbate Does Not Destroy Wine Yeast."
What potassium sorbate does do is keep wine yeast from increasing in numbers. It stops the wine yeast from reproducing itself into a larger colony.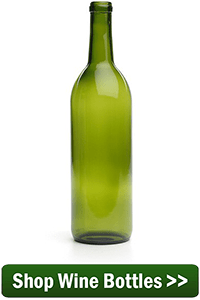 As an example, if you add potassium sorbate to an active fermentation you will see the fermentation become slower and slower, day after day. This is because some of the wine yeast is beginning to naturally die off and new cells are not being produced to take their place. Eventually the yeast colony will either run out of sugars to ferment, or they will all die off from old age.
If you add sugar to a finished wine to sweeten it, and the wine is still laden with residual wine yeast, it does not matter if you add potassium sorbate or not. The wine yeast will ferment in either case. The only difference the potassium sorbate will make is whether the fermentation is going to become a full-blown one or just sputter along, almost unnoticeable, until the aging yeast cells can do no more.
What This Means For The Home Wine Maker:
What this all means for you is that before you add a sugar to a wine to sweeten it, you need to make sure that it is completely done clearing out as much of the wine yeast as possible. You want to give the wine plenty of time to drop out as many of the yeast cells as possible. Then rack the wine off these yeast cells. This is key to eliminating any chance for re-fermentation when sweetening a wine.
Whether or not the sugar is added to the wine before or after the potassium sorbate is immaterial. Just adding them both on the same day is sufficient. And to take this a step further, you can bottle the wine right after adding them. The only requirement is to be doubly sure that both the sugar and potassium sorbate are completely dissolve and evenly disbursed throughout the wine.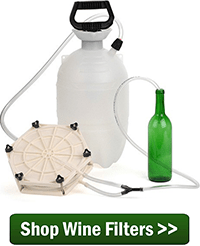 As a side note, you should always add sulfites such as potassium metabisulfite to the wine at bottling time, regardless if you are sweetening it or not.
As to your question about wine filtration… running a wine through a wine filter can only help not hurt during this process. This is simply due to the fact that wine filtration will get more of the yeast cells out of the wine. All three of the pressured wine filter systems we offer have sterile filtrations pads at .50 microns available to them. This will typically get 90% percent of the residual yeast cells that are left.
Happy Wine Making,
Ed Kraus
—–
Ed Kraus is a 3rd generation home brewer/winemaker and has been an owner of E. C. Kraus since 1999. He has been helping individuals make better wine and beer for over 25 years.